Return to Headlines
'Kits, 'Cats and Kids Block Party brings community together on September 13
Aug 29, 2018 4:00pm CT
The following is provided by the City of Evanston. The full article is also available here: https://www.cityofevanston.org/Home/Components/News/News/3087/17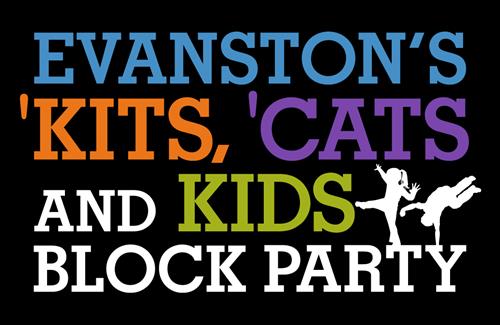 Community members are invited to kick off the back-to-school season at the annual 'Kits, 'Cats and Kids Block Party on Thursday, September 13, 2018, from 4:45 p.m. to 7:30 p.m. in downtown Evanston.
The free event will take place in Fountain Square at Sherman Avenue and Davis Street. Attendees will enjoy games, arts and crafts, family-friendly activities, music, the ETHS and NU marching bands, a rousing pep rally, and plenty of great dining options. All are encouraged to come hungry to dine at one of downtown Evanston's many restaurants or the wide variety of food trucks serving savory and sweet fare. The first 200 hot dogs will be free, thanks to sponsorship from First Bank & Trust.
Discounted football tickets will be sold at the block party to help fill Ryan Field stadium with a sea of purple for the Northwestern Football game on Saturday, September 15 at 6:30 p.m. versus Akron. Discounted tickets can also be purchased at NUSPORTS.com with the code PURPLE through Friday, September 14.
The ETHS football game that weekend will be an away game against Barrington High School on Friday, September 14. The varsity game will be played at 7:30 p.m.
Sherman and Orrington Avenues will be closed to vehicle traffic between Grove and Davis Streets during the event. Vehicles traveling west on Davis Street will be able to turn right onto Orrington Avenue and vehicles traveling south on Sherman Avenue will be able to turn right onto Davis Street. Parking will be available in the Sherman Avenue parking garage, which is located less than a block from Fountain Square.
Community members are encouraged to bike or take public transportation to the block party, located just a short walk from the CTA and Metra Davis Street stations. Indoor bike parking is located on the second floor of the Sherman Plaza Self Park Garage (821 Davis St.)
The 'Kits, 'Cats and Kids Block Party is sponsored by the City of Evanston, Northwestern University, Downtown Evanston, Evanston Township High School, and Evanston/Skokie School District 65.

For more information, please visit cityofevanston.org/kitsandcats, or call or text 847-448-4311. For convenience, residents may simply dial 3-1-1 in Evanston.