Return to Headlines
Northwestern/ETHS exhibit showcases art, science collaboration
Dec 6, 2018 4:36pm CT
Science images from Northwestern University inspired ETHS student work, as part of the Northwestern Scientific Images Contest on display in the high school's auditorium gallery.
A collaborative project between Northwestern University and Evanston Township High School features scientific images as part of the annual Northwestern Scientific Images Contest. A joint exhibition is on display in the ETHS auditorium gallery, highlighted by a free public reception and viewing on Tuesday, December 11 at 6:00pm.
The exhibit is a collaboration between Northwestern University's Science in Society center, the Northwestern/ETHS Partnership Office, and the ETHS fine arts and science departments. The joint exhibition includes 49 works – scientific images taken in Northwestern research labs, and student work including sculpture, drawing, painting and collage from four different ETHS art classes, in addition to photography projects by ETHS physics students capturing science in daily life. Unique to this year's exhibition, a summer internship opportunity at the NU Driscoll Lab inspired the concept for one of the finalist pieces by ETHS student Michael Frim. Delicate Transformation, a photograph of oil and water falling on a glass plate, was developed with Northwestern researcher Srishti Arora.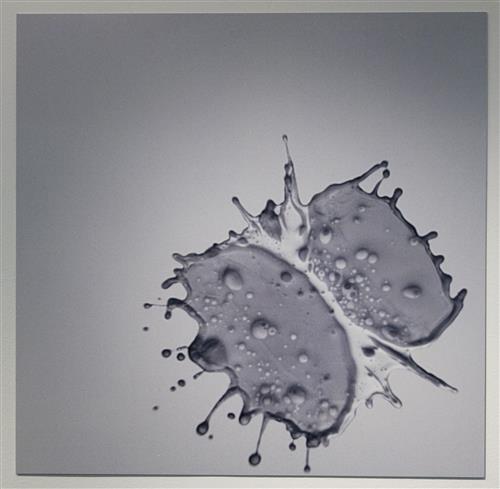 Delicate Transformation
The integrated display reflects the fluid art-science boundaries of the individual pieces, bringing community-centered student work to the public eye and encouraging dialogue through class discussions and public programs. Both researchers and student artists will be part of the December 11 evening event where the Northwestern Scientific Images Contest prize-winners and the ETHS People's Choice Award winner will be announced. During the school day, ETHS students also have the opportunity to view the works, meet the Northwestern scientists behind the images, and vote for their favorite Northwestern image.
The ETHS auditorium gallery is open to visitors attending public events held in the high school auditorium. The scientific images exhibit will be on display through December 20.
About the Scientific Images Contest
Northwestern's Scientific Images Contest, running annually since 2010, brings current research images and conversation into public spaces. The same scientific research that generates new understanding and innovation also brings unexpected and often breathtaking beauty. Northwestern University's annual scientific images contest celebrates and showcases the aesthetic side of research.
Submitted by Northwestern University researchers, these images represent advances across a wide range of disciplines, including medicine, genetics, chemistry, engineering and nanotechnology. Judged by an interdisciplinary panel of local artists, scientists and community leaders, each image comes from a Northwestern research project and cannot be fundamentally altered from its original form. In essence, the images represent both scientific data and art.
The winning images have been displayed throughout the Chicagoland area, including WBEZ's studio on Navy Pier, Museum of Science and Industry, Harold Washington Library, Evanston Public Library, the Noyes Cultural Arts Center, WBEZ's North Side Community Bureau and the Evanston Arts Center.
The contest also serves as a science communications training platform by offering winning scientists the opportunity to participate in outreach events at local schools, libraries and community centers.
For more information, visit
http://scienceinsociety.northwestern.edu/initiatives/scientific-images-contest
Related links:
About Science in Society at Northwestern University
http://scienceinsociety.northwestern.edu/
About Northwestern/ETHS Partnership Office