Return to Headlines
ETHS hosts annual Jazz Fest on February 9
Feb 1, 2019 3:32pm CT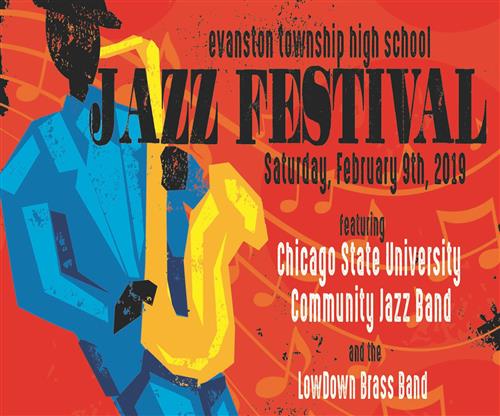 The 2019 Evanston Township High School Jazz Festival will be held Saturday, February 9, in the school auditorium. The evening concert (7:00pm) opens with the ETHS Jazz Ensemble followed by featured guest artist, the Chicago State University Community Jazz Band under the direction of Roxanne Stevenson. Tickets are $20 for adults, $15 for children, students with ID and seniors. Tickets can be purchased online at www.ethsfinearts.com.
The LowDown Brass Band will also perform at a 12:00pm concert on February 9. Jazz ensembles from schools large and small will be performing throughout the day to build their performance experience, sharpen their skills and showcase their jazz talent nurtured by area music programs. Each group will participate in a half hour clinic following their performance.
All proceeds from ticket sales go towards the expenses of the ETHS Jazz Fest to provide unique music opportunities to ETHS students and others. Students will work with adjudicators and clinicians who range from university professors and educators to world-renowned professional musicians. Master classes and clinics will include brass technique, saxophone technique, and rhythm section. School groups can find registration details and information at: https://announcements.wufoo.com/forms/evanston-township-high-school-jazz-festival/.
About the ETHS Jazz Festival
Each February, Evanston Township High School is home to this non-competitive, all-day jazz immersion event. Established in 2004, the ETHS Jazz Festival annually hosts nearly 50 middle and high school jazz groups from around the region. Students of all levels are inspired by professional musicians and enlightened by clinics, lectures and master classes that encourage students to take their playing to the next level. This educational and cultural jazz festival has earned its distinction by providing the opportunity to showcase local, national and international artists. It is the mission of the ETHS Jazz Festival to provide an important supplement to the students' pursuits of jazz by highlighting the enduring elements and important innovations of this distinctly American music.
The ETHS auditorium, 1600 Dodge Avenue in Evanston, is wheelchair accessible. Parking is recommended in the lot on Dodge Avenue, directly across from the auditorium entrance. For more information, contact the ETHS Fine Arts Office at 847-424-7130.