Return to Headlines
Virtual FAN Event with Nancy Burgoyne and Maru Torres-Gregory on March 1
February 24, 2021 1:00pm CT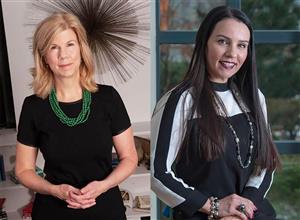 Nancy Burgoyne, Ph.D. and Maru Torres-Gregory, J.D., Ph.D.
(image from www.familyactionnetwork.net)
"What Matters Now: Emotional Balance and Core Needs in the Post-Pandemic Era," a conversation between Nancy Burgoyne, Ph.D, and Maru Torres-Gregory, J.D., Ph.D., will be held on Monday, March 1, beginning at 7:00pm via Zoom. The event is free and open to the public, suitable for ages 12 and up. Registration is required.
The results of the American Psychological Association's 2020 survey on stress led the organization to sound a devastating alarm: "We are facing a national mental health crisis that could yield serious health and social consequences for years to come." Mental health professionals have a front row seat to this crisis. They have the privilege and the challenge of having profound conversations within which themes of helplessness, loss, isolation, uncertainty, and polarization are pervasive. Less expected and often generative are the "what matters now?" conversations that our unprecedented and chronic circumstances have pushed into the fore. The changes that we have been pressed to make have had unanticipated consequences; people are reevaluating their priorities.
Dr. Burgoyne and Dr. Maru Torres-Gregory are both from The Family Institute at Northwestern University (TFI) with decades of experience as clinicians and educators. Their perspectives are deeply informed by their work on the "emotional frontlines" of the pandemic. They will reflect on the substantial mental health challenges we face, the themes woven in this crisis, and the opportunities to access meaning and increase resilience.
Dr. Burgoyne is the Chief Clinical Officer at TFI. A licensed clinical psychologist and family therapist, she teaches and supervises in TFI's academic programs and has been a practicing clinician for over 30 years. As part of the organization's executive leadership team, she focuses on the Institute's mission to provide high quality, scientifically informed care by leading practice-wide clinical quality improvement initiatives that advance clinical skills and client care.
Dr. Torres-Gregory is a Core Faculty member in the Master Program in Marriage and Family Therapy at TFI, where she teaches, supervises, and mentors therapists and supervisors in training. She holds an active clinical practice, helping couples, families and individuals struggling with relational, individual, cultural, and systemic difficulties. Dr. Torres-Gregory maintains a media presence through frequent interviews for Noticias Univisión Chicago, as well as her contributions to publications such as Medium, Women's Health Magazine Online, Bustle, and The Wall Street Journal.
The March 1 webinar is sponsored by Family Action Network (FAN), in partnership with Evanston Township High School D202, Baker Demonstration School, Beacon Academy, Catherine Cook School, Compass Health Center, Connections for the Homeless, Countryside Day School, Family Institute at Northwestern University, Family Service of Glencoe, Fusion Academy, Glencoe D35, Haven Youth and Family Services, Lake Forest Country Day School, Lake Forest D67, Loyola Academy, Loyola University Chicago School of Law, Mindful Psychology Associates PC, Near North Montessori School, New Trier High School D203, New Trier Parents' Association, North Shore Country Day School, Northwestern University School of Education and Social Policy, Regina Dominican College Preparatory High School, Roycemore School, Science and Arts Academy, Spirit of 67, Stevenson High School D125, The Alliance for Early Childhood, VillageMD, Wintrust Bank, Wolcott College Prep, and Woodlands Academy of the Sacred Heart.
The event will be recorded and available later on FAN's website and YouTube channel. For more information, visit www.familyactionnetwork.net.