Return to Headlines
Virtual FAN Event with Bruce Feiler on June 5
May 26, 2023 1:10pm CT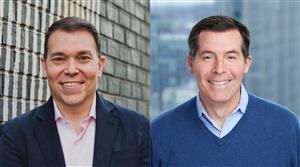 Bruce Feiler and Carter Cast
(image from www.familyactionnetwork.net)
"The Search: Finding Meaningful Work in a Post-Career World," a conversation with Bruce Feiler and Carter Cast, will be held on Monday, June 5, beginning at 7:00pm via Zoom. The event is free and open to the public, suitable for ages 12 and up. Registration is required.
When Bruce Feiler (FAN '21) completed his most recent book Life Is in the Transitions, which introduced readers to the idea of the "nonlinear life," he realized that the greatest frontier of change in the world is work. Unprecedented numbers of Americans are quitting their jobs, rethinking their routines, breaking away from stifling expectations. We're still living through the Great Resignation and quiet quitting.
The most suffocating iron cage of all is the premise that each of us must have a career. We must follow a linear path of success, locking into a dream early, always climbing higher, never stopping until we reach the top. Few ideas have created more misery, squandered more human potential, or ruined more relationships.
From thousands of hours of interviews with an extraordinarily diverse group of Americans, Feiler has distilled a powerful new vision for how to think about work. He shows that our lives are upended by a stream of "workquakes" on average every two and a half years. Sure, some people set a goal and stick with it, but far more of us revise our passions, change our directions, and rethink our priorities. Feiler's new book The Search: Finding Meaningful Work in a Post-Career World empowers each of us to stop chasing someone else's dream and start chasing our own.
Feiler is one of America's most thoughtful voices on contemporary life. He is the author of multiple New York Times bestsellers; the presenter of two prime-time series on PBS; and the inspiration for the drama Council of Dads on NBC. His two TED Talks have been viewed millions of times.
Feiler will be in conversation with Carter Cast (FAN '18), the Michael S. and Mary Sue Shannon Clinical Professor of Entrepreneurship at Northwestern's Kellogg School of Management. Cast is an operating partner for the Pritzker Group Private Capital, where he invests in and counsels growing companies. He also sits on the board of the Kellogg Company (NYSE: K) and PLZ Corp and is the author of the 2018 book The Right (and Wrong) Stuff: How Brilliant Careers are Made – and Unmade. Forbes named it one of the six best "self-help books to keep you motivated until 2020 (and beyond)" and Business Insider called it "one of 17 must-read books of 2018."
The June 5 event will be recorded and available on FAN's website and YouTube channel. For more information, including a list of sponsors for the event, visit the Family Action Network website.