Return to Headlines
Important Reminders for First Day of School, August 16, 2021
The ETHS community is excited to welcome students back to school on Monday, August 16! Please note the following important reminders.
Bring a mask and a reusable water bottle. As a reminder, in accordance with the Governor's Executive Order 2021-18, ETHS requires masks indoors for all students and staff during the school day, regardless of vaccination status. Please bring a mask to wear over your nose and mouth every school day. We also recommend that students bring a reusable water bottle to school every day. Water filling stations are available throughout the building.
Prepare for full in-person learning. ETHS students should prepare for full, in-person instruction every day. Remember that there is no remote learning option offered for 2021-22, even if you are quarantined. Accommodations will be provided as needed. State regulations and school policy regarding homebound instruction will apply as warranted.
Check the block. Please review the first day bell schedule along with the location for the optional luncheon for all students from 11:10am-12:10pm. Students should not go to a cafeteria for lunch on Monday, August 16.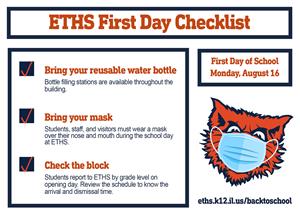 For the remainder of the week, August 17-20, students should arrive by 8:00am for the block schedule that begins at 8:30am. Please note:
Students can view their class schedules in

Home Access Center (HAC

)

.

Students are encouraged to view the

Block Schedule in Home Access Center (HAC)

video.

Cafeterias will be open. Since masks will be off while students are actively drinking and eating, students will be distanced as much as possible in cafeterias. Tents are set up in outdoor courtyards adjacent to the cafeteria. Student vending machines will also be available.
Every student needs a school ID. Students will receive their 2021-22 ETHS student ID on the first day of school in their first block class. If you do not receive your ID in your first block class, please go to the ID Office in W103 for assistance. Virtual student IDs can be accessed through a student's myETHS account (instructions are available on the ETHS website). Students who have not yet taken a school ID photo should check their email for details. More information on ETHS IDs is available on the ETHS website.
Vaccinations remain critical. Vaccination continues to be the most safe and effective way to protect ourselves and each other from COVID-19 and its variants. We strongly encourage families to make vaccination appointments for students who have not yet received them. Vaccination opportunities are readily available through the City of Evanston, Village of Skokie, and Cook County. You may also check with your local pharmacy or healthcare provider.
Please submit your Proof of Covid Vaccination if you have not already done so. Beginning the evening of August 13, you may check your myETHS account to confirm that ETHS has received your proof of vaccination. Teachers and select staff members will be able to view vaccination status to support our contact tracing efforts. You may complete the Proof of Covid Vaccination Form for Students at any time once you are fully vaccinated. Please allow five school days for processing.
ETHS website: COVID Response 2021-22. ETHS will continue to share updates with students and families throughout the school year. The COVID Response 2021-22 web pages will provide the most up-to-date information. The ETHS COVID dashboard is updated weekly and will include the number of students who have submitted proof of COVID vaccination.