Return to Headlines
Reminder: Sign up online for the March 19 Connections to Community Conference
March 9, 2016 2:58pm CST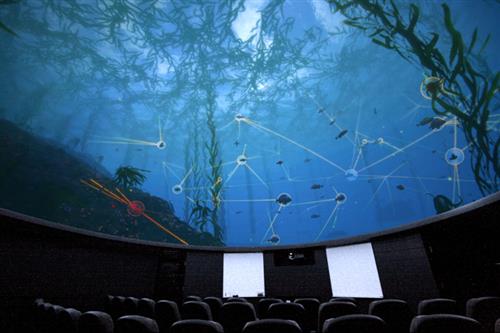 Community members will have an opportunity to take a class in the renovated ETHS planetarium as part of the high school's Connections to Community Conference.
Evanston/Skokie community members will have an unprecedented opportunity to experience classes at Evanston Township High School through the Connections to Community Conference on Saturday, March 19, 1:00-4:00pm. ETHS District 202 is opening its doors for simulated classroom experiences and special sessions covering a variety of topics.
District 202 parents, community members and people who work in Evanston/Skokie organizations or businesses can sign up online for the conference which consists of three sessions. Each guest may register for one 50-minute class per session (up to three classes). Registration is free and some classes will be held in newly renovated spaces. Space is limited so early registration is recommended.
Class offerings include "Our Universe" in the ETHS planetarium, "Fascinating, Inexplicable, Explicable" in a STEM lab, "Navigating Naviance" in The Hub, and "Geometry in Construction Presentation and Tour". In addition to classes led by ETHS teachers and staff, ETHS is offering classes held by Northwestern University faculty. Guest facilitators also include Mayor Elizabeth Tisdahl, ETHS District 202 Superintendent Eric Witherspoon, and Evanston/Skokie School District 65 Superintendent Paul Goren.
"We know that classroom visits are not possible during the school day, so we wanted to provide members of our community with a first-hand experience of ETHS resources in some small way," remarked Peter Bavis, ETHS Assistant Superintendent for Curriculum and Instruction. "This conference allows us to showcase some of our incredible spaces in action without disruptions to our students."
Conference guests should enter through Door 31 behind the school. Check in will begin at 12:00pm. All classrooms are wheelchair and elevator accessible. Parking is available in the rear lot (enter off of Church or Lake Streets). For more information contact Dr. Bavis at
bavisp@eths.k12.il.us
.