Return to Headlines
Refurbished planetarium enhances academic offerings at ETHS
Oct 22, 2015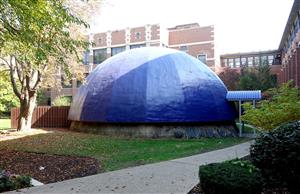 Evanston Township High School unveiled its refurbished planetarium at a ribbon-cutting event held October 15. As one of only a handful of high schools in the country to have a fully-functioning planetarium, ETHS upgraded the nearly 50-year-old structure to offer some of the most technologically advanced science curricula available to high school students.
A lead gift of $500,000 from ETHS alumnus Leonard Schaeffer ('63) helped fund the upgrades which include a 3-D theater, now named the Leonard D. Schaeffer Theater. In support of ETHS District 202's Capital Improvements Plan, the ETHS Educational Foundation raised an additional $220,000 to completely revitalize the planetarium, originally built in 1968.
The new planetarium space enables ETHS to offer an astrophysics class to students, which may be a first at the high school level. Additionally, interactive learning opportunities will also be available to students of all ages through collaborations with education partners like District 65 and Northwestern University.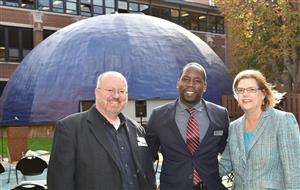 From left, Dr. Mark Hammergren, an astronomer from the Adler Planetarium is joined by ETHS Assistant Superintendent and Principal Marcus Campbell and Dr. Faith Vilas, Senior Scientist at the Planetary Science Institute for the celebration of the ETHS planetarium upgrades. (Photo: Genie Lemieux Photography)
Schaeffer, along with special guests Dr. Faith Vilas from the Planetary Science Institute and Dr. Michelle Larson from the Adler Planetarium, attended the event to get a first-hand look at the new features of the planetarium. The structure houses a projection system with surround sound, which runs software for planetarium, astronomy, and geoscience lessons as well and 3D interactive environments. Videos made for dome projection can also be shown in the planetarium.
Event guests also learned about teaching and learning opportunities available to all ETHS academic departments. Students will be able to create their own content in various areas. For example, students will be able to receive live updates from the U.S. Geological Survey, take a tour of the human anatomy, or uncover phenomena of the universe.
"A big thank you goes to Leonard Schaeffer and the ETHS Educational Foundation donors for generously making it possible to completely refurbish and reequip our planetarium. We are committed to inspiring a lifelong passion for learning in our students," stated ETHS District 202 Superintendent Eric Witherspoon. "Our planetarium offers digital experiential learning so our students can take an IMAX-quality trip through our solar system and beyond, sit in the Sistine Chapel, explore the Galapagos Islands or journey through the human body. Learning is exciting at ETHS and it just got more exciting with our high-tech planetarium."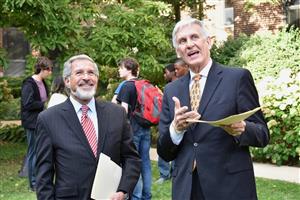 ETHS alumnus and donor Leonard Schaeffer and ETHS Superintendent Eric Witherspoon admire the renovated ETHS planetarium. (Photo: Genie Lemieux Photography)
For more information about the planetarium and the science curriculum at ETHS, contact ETHS Science Department Chair Terri Sowa-Imbo at sowaimbot@eths.k12.il.us.