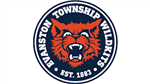 AN ETHS GUIDE TO PURSUING COLLEGE ATHLETICS
This site is here to help you explore what is required to play sports in college. Ask for help from your counselors, coaches and parents. No one expects you to do it alone. But, ultimately, YOU must take responsibility for this process.
UPCOMING EVENTS
We had a VERY successful CSL College Recruiting Seminar on March 9! Over 175 student-athletes and 30 coaches came together to talk candidly about what they look for when they're recruiting and how to get noticed.

NEW!! You can now calculate and track your NCAA core GPA using this simple - free for ETHS students - online tool corecoursegpa.com. See below for details on starting your account.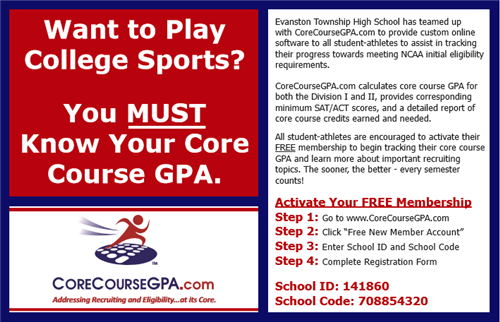 *corecoursegpa.com is not a replacement for registering with the NCAA Eligibility Center.
DID YOU KNOW?
Division I manages the largest athletics budgets. The average for schools in the Football Bowl Subdivision is $62.2 million
Division II provides one championship opportunity for every seven athletes, the highest championship access ratio in the NCAA.
Division III has the highest graduation rate among athletes.
Upcoming ACT and SAT Registration Deadlines
| ACT Test Date | ACT Registration Deadline | (Late Fee Required) |
| --- | --- | --- |
| April 8. 2017 | March 3, 2017 | March 4-17, 2017 |
| June 10, 2017 | May 5, 2017 | May 6-19, 2017 |
To make an appointment with Joyce Anderson (College Bound Student Athlete Advisor), please answer all questions below and submit.