Return to Headlines
Upward trend in student enrollment and achievement continues at ETHS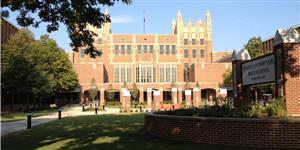 Evanston Township High School (ETHS) presented an overview of student achievement and key indicators of school performance at the October 26 District 202 Board of Education meeting. The ETHS Research, Evaluation, Assessment Office presented information during an annual presentation of the Report on Student Achievement and Opening of School Report. The presentation highlighted an increase in student enrollment at ETHS, as well as the upward trend for several achievement measures, including ACT scores and Advanced Placement (AP) results.
According to the Opening of School Report, this school year reflects the highest enrollment number (3,322) over the last five years at ETHS, Evanston's only public high school. In 2015-16 ETHS also recorded its highest enrollment of students who identify as Hispanic/Latino in the history of the school. The proportion of Black/African American students (29.5% in 2015-16) has remained steady at ETHS for the past five years while the proportion of Hispanic/Latino students at the main campus has increased from the prior year (about 18% in 2015-2016 compared to 17% in 2014-2015). The proportion of White students decreased to 43.6% in 2015-16 compared to 44.7% in 2014-2015. Additionally, the percentage of Asian students at the main campus has increased slightly in 2015-16 to 5.2% and the percentage of students identified as two or more races declined in 2015-16 to 3.3%, compared to 4.2% in 2014-15.
ETHS recently reported the highest ACT scores in school history, with the composite score for the Class of 2015 at 23.9. This includes all-time high scores in all subtests (English, mathematics, reading and science) of the ACT, a national curriculum-based test that is scored on a scale of 1-36. The 2014-15 Report on Student Achievement also indicated honors/AP enrollment at 85% for grade 11 or 12 students, an increase of more than 2% from the prior year.
ETHS District 202 Superintendent Eric Witherspoon commented, "ETHS enrollment is increasing. Diversity of our students is increasing. ACT results in all subject areas are at an all-time high. AP enrollment is at an all-time high. AP achievement is at an all-time high with a record number of students scoring 3s, 4s and 5s on the national exams. And racial diversity of students enrolled in our AP classes is at an all-time high. It's a great day to be a Wildkit."
Last school year, data indicated that these trends may be attributed to the District's efforts to restructure the freshman year experience, which began in 2010. The Class of 2015 was the first cohort to be enrolled in the restructured freshman humanities course. Since 2010, both student participation in AP courses and scores have continued to climb. The percentage of graduating seniors enrolled in at least one AP course was 78.7% (548) in 2015, showing an increase of about 4% from each of the previous two years.
In comparison to state and national data, ETHS continues to show favorable results in both ACT benchmarks and AP scores. For example, of the 2015 graduating seniors enrolled in at least one AP course, 74% earned a score of 3 or higher on at least one AP exam, showing increases from 2014 graduates (66%) and 2013 graduates (69%). By comparison, 21.5% of Illinois graduates and 20% nationwide who took at least one AP exam earned a score of 3 or higher in 2013 (Source: 10th Annual AP Report to the Nation). ETHS currently offers 27 Advanced Placement courses in six different academic areas.
In order to meet the goal of ensuring significant academic and socio-emotional growth for each ETHS student, the high school has enhanced individualized supports, program, services, and curricula. ETHS academic supports include AM Support, Academic Study Centers, Bacon Study Café, Freshman Advisory Study Hall, Homework Center, Wildkit Academy, and other programs.
While the 2014-15 Illinois Report Card is not yet available from the Illinois State Board of Education (ISBE), data from 2013 and 2014 reports show that the four-year graduation rate increased from 86% to 88%. When 2014-15 data is available, ETHS will also be able to assess the percentage of freshmen students who are on track to graduate, which was reported at about 94% for 2013-14.
National Student Clearinghouse data indicates that about 82% of 2013 graduates continued in a post-secondary institution within two semesters of graduating from ETHS. Data on 2014 graduates will be available in winter 2015. Analyses of post-secondary enrollment and college-readiness measures from the State of Illinois are ongoing.
Related link:
ETHS Report on Student Achievement and Opening of School Report