Return to Headlines
ETHS teacher elected to NEA Executive Committee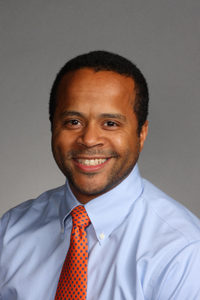 Evanston Township High School teacher Eric Brown was elected to the Executive Committee of the
National Education Association
, a national professional organization committed to advancing the cause of public education. NEA delegates elected Brown on July 4, 2015 for a three-year term that begins September 1, 2015.
Brown, a biology teacher in the Science Department at ETHS, is the former president of the ETHS Teachers' Council and a member of the NEA Board.
"As an executive committee member, I want to bring the ETHS spirit of collaboration between educators who know the names of the students, and administrators who are instructional leaders to districts across the country," Brown remarked. "I want to highlight the Evanston/Skokie spirit of community engagement in, and support for, public education as part of a solution to the issues facing many communities across America."
Brown received his bachelor's degree in biological sciences in 1997 and a Master of Science in Education in 1999, both from Northwestern University. As a member of the Executive Committee, he plans to promote a great public education for every child; ensure every child has caring, qualified and committed educators; and focus on organizing and engaging other educators.
"The diversity of students that I have had the pleasure of working with over my 16 years teaching at ETHS motivates me to do the work that I plan on doing as part of the NEA Executive Committee," Brown added. "The ETHS school community has always had smart and committed educators who want to see every student succeed. I want to make sure other communities and districts recognize that a high quality education is achievable provided we keep students at the center of the work we do every day, and that educators being involved in the decision-making process is essential because we are the ones most in touch with what our students need to be successful. And by educators, I mean more than teachers; I mean the support staff, safety staff, cafeteria staff, all adults who work at ETHS and have a connection with a student that we serve."
The NEA Executive Committee is a nine-member governing body, with three executive officers and six members elected at-large by the Representative Assembly, overseeing the nearly 3 million-member Association. The committee is responsible for general policy and interests of NEA, in between NEA Board meetings.
Related links:
NEA press release
: Chicagoland educator elected to NEA Executive Committee