Return to Headlines
ETHS Career & Tech Ed named Illinois program of the year
Nov 10, 2017 5:03pm CT
ETHS Career & Technical Education Department staff (from left): Tom Sprengelmeyer, Jonathan Lawrence, Jeff Totsch, Shelley Gates, Gary Haller, Cindy Curtis, and Matt Kaiser.
The Career & Technical Education Department (CTE) at Evanston Township High School is the recipient of the 2017 High School Program of the Year Award from the Technology Education Association of Illinois (TEAI). Each year, TEAI awards individuals and programs at the Illinois Technology Education Conference that are making significant contributions to field of technology education. This year's event was held October 27-28 in Normal, IL.
The TEAI award recognizes high schools with superior technology education programs that provide students with a fundamental knowledge about the development of technology, its effect on people, the environment and culture. Students who take CTE classes at ETHS gain the critical skills and education needed for successful careers in a variety of industrial technology areas, such as automotive, construction, welding, manufacturing, architecture, and engineering.
"CTE students are engaged learners because they are taught through project-based learning with real-world problems," noted Shelley Gates, ETHS CTE Department Chair. "Our instruction combines a problem solving orientation, relevant technical skills in the field of study, and essential life skills including working effectively with others." Students also gain valuable work experience through CTE programs by completing technology-related internships while still in high school.
The manufacturing, automotive, engineering, and construction labs at ETHS all received renovations in recent years to meet industry standards and help students gain hands-on experience in a wide range of areas. Students have access to a variety of equipment including 3D printers, CNC (computer numerical control) machines, laser engraver, a state-of-the-art welding and manufacturing lab, a dedicated 8,000 sq.ft. construction site on school grounds to build houses, makerspace, robotics lab, updated computer labs, and much more.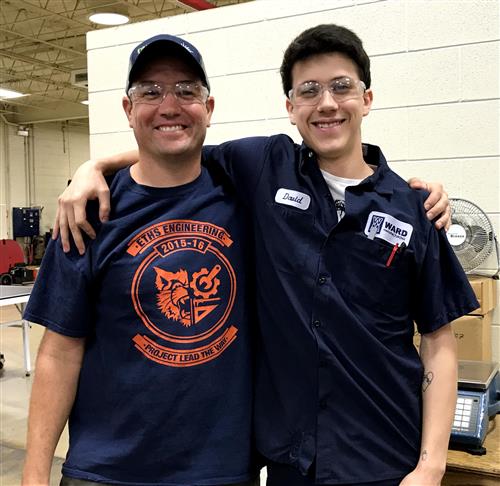 ETHS alumnus David Abramson (right) learned a wide range of manufacturing skills in classes taught by CTE teacher Jonathan Lawrence (left). While a student at ETHS, Abramson (Class of '16) was enrolled in Engineering Design, Principles of Engineering, Manufacturing Technology, and Manufacturing Engineering. Abramson now applies skills learned in the classroom to his work as a Tool and Die Maker Apprentice at Ward Manufacturing in Evanston.
ETHS offers six Project Lead the Way courses, three levels of automotive technology, three levels of manufacturing technology, and the multidisciplinary course Geometry in Construction. A number of active clubs are also connected to CTE programs, such as VEX robotics, CAD club which competes at IDEA, National Society of Black Engineers, Women in STEM, Society for Hispanic Professional Engineers Junior Chapter (SHPEjr), and Automotive Club (E-town Tuners).

Visit the Career & Technical Education web page on the ETHS website (https://www.eths.k12.il.us/domain/366) for more information about the CTE program at ETHS. For questions, contact department chair Shelley Gates at gatess@eths.k12.il.us.