Return to Headlines
ETHS community comes together for annual Empty Bowl event
Dec 11, 2017 4:30pm CT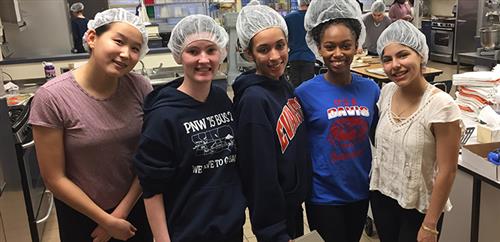 ETHS students (from left) Nora Batko, Isabella Allen, Ryan (Micayla) Lardner, Tia Sims and Cielo Gomez contributed their time and talent to a successful Empty Bowl event at the high school.
For the past 18 years, Evanston Township High School has hosted its annual Empty Bowl event to support local soup kitchens and food pantries. On December 6, the ETHS Community Service Office brought together staff and students from Career & Technical Education (culinary), Fine Arts (ceramics), and staff from Operations and Nutrition Services to plan and implement the event to help raise awareness and funds in the fight against hunger.
About 500 people attended Empty Bowl 2017 and had the opportunity to purchase a meal and a handmade ceramic bowl during ETHS lunch periods. In addition, 28 ceramic pieces were donated by local artists for silent auction. With help from about 80 student volunteers, Empty Bowl raised $5,000 this year, which converts to approximately 2,500 meals at a soup kitchen, according to ETHS Community Service Coordinator Mary Collins. This year's event used a "food re-distribution" approach, with local soup kitchens receiving soups, chili, bread and cookies leftover from the event.
"Thank you for your hard work and dedication in helping to alleviate the pain and despair suffered by the most vulnerable of our neighbors," stated Tom Carney Jr., Vice-President and Director of Interfaith Action Network of Evanston, a nonprofit group that runs soup kitchens and shelters throughout the community. Interfaith Action, along with Hillside Food Pantry, Soup at Six and Campus Kitchen at Northwestern University were on hand at Empty Bowl to directly thank volunteers and guests and to talk to those interested in becoming more involved in the efforts of the organizations.
The spirit of giving starts early at ETHS where freshmen (from left) Jane Hedges, Izzy Basso, Mary McClintock, and Bradley Belios volunteered at the annual Empty Bowl event.
With the renovation of the ETHS ceramics studio this year, more students had more space to create high quality pieces that were showcased in the Empty Bowl event. The new ceramics studio was funded in part through the generous support of donors to the ETHS Educational Foundation. Many local businesses and organizations have supported Empty Bowl at ETHS for more than 10 years, including the Bagel Art Evanston Art Center, Great Harvest Bread Company, Midwest Clay Guild as well as ETHS Boosters and the Wilmette Park District.
For more information about Empty Bowl at ETHS, contact Mary Collins at collinsm@eths.k12.il.us.