Return to Headlines
ETHS students receive Kiwanis Club recognition
Jan 12, 2018 2:30pm CT
The Kiwanis Club of Evanston recognized two groups of students from Evanston Township High School in December 2017 and January 2018. Erica Gomar, Shavine Rodney, Josh Rowzee were honored for their work on the The Key, the ETHS yearbook. Kierra Abrahms, Caroline Christensen, and Miguel Jimenez were honored as scholar athletes. Each student received the Ted Van Zelst Award.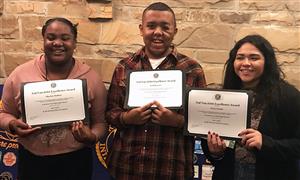 ETHS seniors (from left) Shavine Rodney, Josh Rowzee, and Erica Gomar were recognized by the Kiwanis Club of Evanston. ETHS teacher and advisor Sarah Young acknowledged the students' enthusiasm for working on the high school yearbook. (Photo courtesy of Kiwanis Club of Evanston)
In addition to yearbook participation, Gomar is on student council and serves on the Student Leadership Board for the Latinx Summit. Rowzee, who is involved in student council as well as the DREAMers Club, hopes to study law in college. Rodney is a member of the Girls' Track & Field team, specializing in shot put. After emigrating to the U.S. from Jamaica five years ago, she is considering her post-high school options in Michigan. All three students acknowledged that yearbook activities provided a way to work with others while learning more about the breadth of organizations available to ETHS students.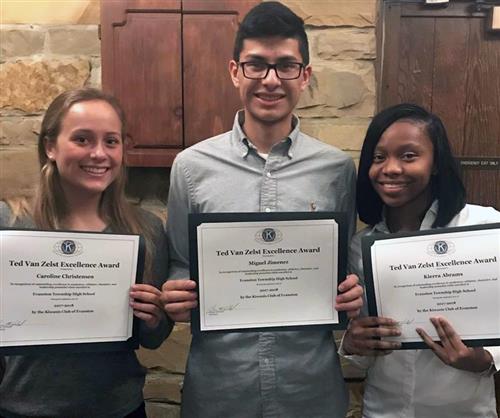 ETHS seniors (from left) Caroline Christensen, Miguel Jimenez, and Kierra Abrams were recognized by the Kiwanis Club of Evanston. (Photo courtesy of Kiwanis Club of Evanston)
Abrams is captain of the Girls' Bowling team and manages to work several days a week, between bowling practice and her involvement in a number of ETHS groups. Christensen's sports activities range from cross country and gymnastics to soccer and field hockey. She also serves on student council and looks forward to studying engineering in college. Jimenez served for two years as captain of the Boys Soccer team and contributed to the team reaching the Elite Eight for three years, which is an ETHS record. He will work toward a degree in mechanical engineering in college.
Since the inception of these awards in 2007, the Kiwanis Club has recognized more than 200 ETHS students in the areas of athletics, community service, and fine arts. Student honorees continue to inspire Kiwanis Club members through their good works, academic accomplishments, and community interest. The Ted Van Zelst award was named for a prominent Evanston businessman, entrepreneur and humanitarian.