Return to Headlines
ETHS hosts Family Action Network event with Zachary Wood on June 20
June 11, 2018 2:30pm CT
The following announcement is provided by Family Action Network:
"Uncensored: Engaging with Free Speech on Campus"
Wednesday, June 20, 2018, 7:00 PM
Evanston Township High School Auditorium
1600 Dodge Ave., Evanston, 60201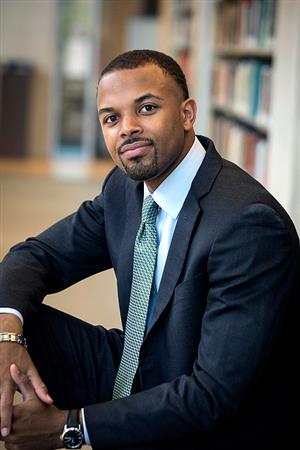 Zachary R. Wood (image from familyactionnetwork.net)
Evanston Township High School will host "Uncensored: Engaging with Free Speech on Campus" on Wednesday, June 20 at 7:00pm, in the school auditorium. The event is suitable for ages 12 and up.
Freedom of speech on college campuses has become an urgent, hot-button issue that gets to the very heart of our democracy. At the center of this dispute is 21-year-old student and writer Zachary Wood. A 2018 graduate of Williams College, Wood was thrust into the national spotlight for giving controversial speakers a platform for debate on his campus. A self-identified liberal Democrat, he is an outspoken advocate for debate of all opinions and viewpoints as the only way to bridge the gap in our divided nation. His first book, Uncensored: My Life and Uncomfortable Conversations at the Intersection of Black and White America, is a poignant memoir with a crucial – and timely – message.
As President of the student group Uncomfortable Learning, he extended a speaking invitation to the openly bigoted author and journalist John Derbyshire. It sparked hundreds of hurtful and even violent reactions from his fellow classmates, many of whom called Wood a traitor to his race and said he had blood on his hands for inviting such a speaker. Ultimately, the college president cancelled Derbyshire's talk, and Wood became a media star overnight, appearing on networks like CNN, Fox News, and MSNBC. He has since gone on to write for The Washington Post, The Nation, and Times Higher Education and now serves as a Robert L. Bartley Fellow at The Wall Street Journal.
Despite his rise to prominence, Wood has yet to share his powerful personal story with the world—until now. From growing up with a mother who struggled with mental illness to "code switching" to survive the sharp contrasts between the poor neighborhood where he lived and the wealthy one where he went to school, Wood's background shaped his dynamic perspective on free speech in essential and highly personal ways.
Wood's 2018 TED Talk, titled "Why it's worth listening to people you disagree with," has been viewed over one million times since its April 2018 release on the TED website.
ETHS is located at 1600 Dodge Ave., Evanston, 60201. The auditorium is wheelchair accessible. Guests should plan to arrive about 15 minutes prior to 7:00pm to find parking and seats. Parking is available in the lot across from the main entrance, off of Dodge Avenue, or in the lots behind the high school. Parking is also available along Dodge Avenue according to posted City of Evanston signs.
The June 20 presentation is sponsored by Family Action Network (FAN) in partnership with ETHS District 202, Glencoe D35, the Glencoe PTO, Youth and Opportunity United (Y.O.U.), and the YWCA Evanston/North Shore.

For more information about FAN events and sponsors, visit www.familyactionnetwork.net. For questions, email info@familyactionnetwork.net.