Return to Headlines
Contract extended for ETHS District 202 superintendent
June 13, 2018 4:16pm CT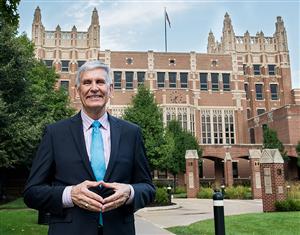 Eric Witherspoon, Ph.D. (Photo: Lynn Trautmann, LTPhoto Evanston)
The Board of Education of Evanston Township High School District 202 passed a resolution at its June 11, 2018 meeting to extend the contract of Superintendent Eric Witherspoon. In a unanimous vote of the six board members in attendance during the meeting's open session, a new contract extension for Dr. Witherspoon was approved through June 30, 2022.
With nearly 29 years of experience as a superintendent, including 12 years at ETHS, Dr. Witherspoon has led the district's equity efforts and academic progress to unprecedented levels, including the strongest ACT exam and Advanced Placement results in the school's history. Programs and services, along with supports, have kept pace with rising student enrollment and achievement in recent years. Recognized as one of the top school districts in the state and in the country, ETHS District 202 has been featured in sources such as the National Journal, Washington Post, U.S. News & World Report, Educational Leadership, PBS NewsHour, WTTW Chicago, and other media outlets.
"As the superintendent, Dr. Witherspoon has the tremendous responsibility to ensure that all decisions regarding curriculum, instructional strategies, formal and informal assessment and professional development are based on sound research, best practice, school/district data and other contextual information," said Pat Savage-Williams, president of the ETHS District 202 Board. "Dr. Witherspoon has consistently demonstrated the ability to lead and manage diverse constituencies representing different viewpoints and perspectives."
The implementation of strategies under Dr. Witherspoon's leadership will help ensure that ETHS District 202 continues to demonstrate growth in key areas including: curricula and academic supports, programs and services; partnerships and collaborations with Northwestern University and Evanston Cradle to Career; continued Joint Achievement Report with District 65; additional facility upgrades such as the algebra in entrepreneurship center, ceramics studio, auto lab, Heritage Hall, athletics spaces, Geometry in Construction site, Advanced Manufacturing Lab, STEM classrooms, increased energy efficiency, and other improvements. Developments in technology and communications (Google for Education Reference District, 1:1 Digital Initiative, Distributed Antenna System, mobile app, branding and signage, and school website) have also made ETHS a model school district.
ETHS has reached significant milestones with consistent fiscal strength and responsibility during challenging economic times in Illinois. The district has achieved a balanced budget every year since Dr. Witherspoon came to ETHS, annually winning the top national budget and accounting awards and receiving the coveted Aaa bond rating.
"Dr. Witherspoon is an outstanding leader and has built a culture and institution rooted in a clear vision, a strong plan and a solid infrastructure," added Savage-Williams. "ETHS continues to be the heart of the Evanston/Skokie community and his love and care for our students, families and staff is apparent in everything he does."
For more information about ETHS District 202, visit www.eths.k12.il.us.