Return to Headlines
Wildkit house moved, ready for buyer applications
June 14, 2018 4:26pm CT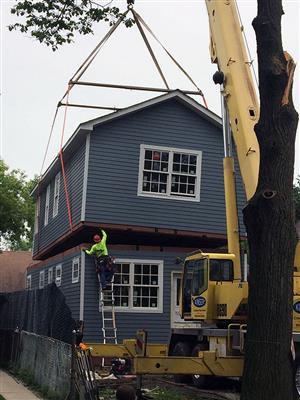 After a year-long course at Evanston Township High School, a house built by Geometry in Construction students was moved from the ETHS campus to its community location at 2005 Gray Avenue in Evanston on June 11. The house was constructed on-site at ETHS before its move to a permanent home this summer. Vacant lots for Geometry in Construction homes are provided through a partnership with the City of Evanston.
The two-story Wildkit house includes 3 bedrooms and 2.5 baths, hardwood floors, central air, and an open floor plan on the first floor. It comes with a complete two-year home warranty. Community Partners for Affordable Housing (CPAH) accepts applications for the purchase of Geometry in Construction homes. Those interested may contact CPAH to find out if they qualify to buy the house, or to learn about affordable housing. Email CPAH directly at akaufman@cpahousing.org or call 847-681-8746.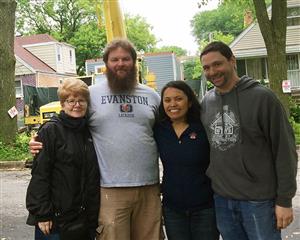 ETHS staff members (from left) Shelley Gates and Matt Kaiser (Career & Technical Education) and Maryjoy Heineman and Dale Leibforth (Mathematics) were on-hand for the Wildkit house move in Evanston.
During the 2017-18 school year, 99 ETHS students were enrolled in Geometry and Construction, an interdisciplinary course taught by Maryjoy Heineman of the Mathematics Department and Matt Kaiser of the Career and Technical Education (CTE) Department. The course provides college and career-bound students with the opportunity to learn the full geometry curriculum through the construction of a single-family home. The course is offered for both regular and honors credit. In addition to the mathematics coursework, students gain hands-on experience in home design, floor and wall construction, sheathing, roofing, siding, window installation, painting and trim work. The course will be taken by 96 students during the 2018-19 school year.
For more information about the Geometry in Construction course, contact Shelley Gates, CTE Department Chair at ETHS (gatess@eths.k12.il.us).