Return to Headlines
ETHS District 202 accepts car donation from Horace Mann
Aug 28, 2018 4:25pm CT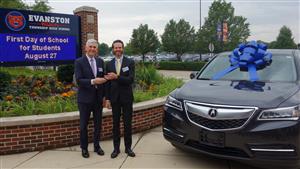 ETHS District 202 Superintendent Eric Witherspoon (left) accepts the key to a 2014 Acura from John Murphy, Region Executive for the West Zone at Horace Mann, for the school's driver's education program.
The Driver's Education Program at Evanston Township High School (ETHS) will be able to meet greater student need thanks to the donation of a 2014 full-size Acura from Horace Mann. Representatives from Horace Mann, Copart USA, and Gerber Collision joined ETHS staff for a donation event as part of the companies' collaborative commitment to education.
John Murphy, Regional Executive for the West Zone at Horace Mann, officially handed the car key to Dr. Eric Witherspoon, ETHS District 202 Superintendent, on August 24 as staff prepared for students' first day of school on August 27. With more than 3,500 students in grades 9-12 at ETHS, hundreds are eligible to take driver's education each year. The Acura is one of four vehicles that will serve the needs of students who want to get behind-the-wheel experience through the ETHS Physical, Wellness, and Driver's Education Department.
"We are so appreciative for this generous gift from Horace Mann and their partners," said Dr. Witherspoon. "This beautiful Acura will unquestionably be our finest driver education vehicle, providing hundreds upon hundreds of hours of driving experience for our students who are learning to drive safely. A big thank you goes to Horace Mann."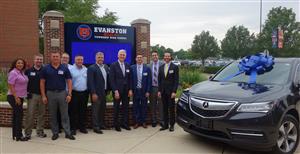 Representatives from Horace Mann, Copart USA, and Gerber Collision visited the ETHS campus to celebrate the kick-off of the 2018-19 school year during the August 24th donation event.
"As a company committed to helping educators protect what they have today and prepare for a successful tomorrow, this donation fits right in with what we are all about," said Allan Robinson, Executive Vice President, Field Operations & Sales Management. "Working with Gerber Collision, Copart USA and Evanston Township School District 202, we've donated a car to help the district get driver's education students behind the wheel so they can practice what they've learned about the rules of the road."
Horace Mann (Horace Mann Educators Corp. (NYSE:HMN)) is the largest financial services company focused on providing America's educators and school employees with insurance and retirement solutions. Founded by Educators for Educators® in 1945, the company is headquartered in Springfield, Illinois. For more information about the company, visit horacemann.com.