Return to Headlines
ETHS introduces Meatless Mondays for 2018-19
Sep 28, 2018 5:06pm CT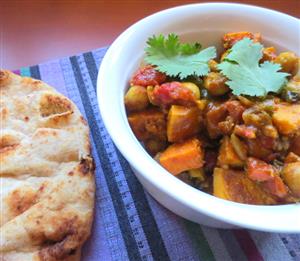 ETHS cafeterias are serving meatless dishes, such as chana masala made with curried garbanzo beans, on Mondays this school year. (Image from MeatlessMonday.com)
The Nutrition Services Departments of Evanston Township High School District 202 and Evanston/ Skokie District 65 have introduced Meatless Mondays in all school cafeterias and serving areas for the 2018-19 school year. This citywide effort enables students and staff to make healthier eating choices while also improving the health of the planet.
Meatless Monday is a science-based public health initiative associated with Johns Hopkins University Bloomberg School of Public Health. Its goal is to reduce chronic preventable diseases by encouraging less consumption of meat. ETHS Director of Nutrition Services Kim Minestra, points to a number of benefits to adopting Meatless Mondays, including the following:
Demonstrating industry leadership: Evanston/Skokie schools have joined hundreds of other forward-thinking foodservice operations that are guiding the U.S. towards a healthier, more sustainable food system.
Promoting healthy habits: studies indicate that choosing not to eat meat on Monday can lead to making healthier food decisions throughout the week and helping establish a healthy habit that could last a lifetime.
Reducing environmental impact: decreasing meat consumption just one day a week results in a significant reduction of our carbon footprint.
Each Meatless Monday features a variety of options for all students and staff. Examples include chana masala, Greek pasta salad, burrito bowl, black bean burger, spicy chili and jalapeno cornbread, and Mediterranean pita with falafel, hummus, and cucumber.
For more information about the ETHS Nutrition Services, visit https://www.eths.k12.il.us/Page/361.