Return to Headlines
ETHS hosts Family Action Network event with Ibram X. Kendi
Oct 5, 2018 9:20am CT
"Stamped from the Beginning"
Friday, October 12, 2018, 7:00 PM
Evanston Township High School Auditorium
1600 Dodge Ave., Evanston, 60201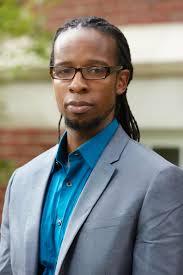 Ibram X. Kendi (Image from familyactionnetwork.net)
Evanston Township High School will host "Stamped from the Beginning" with Ibram X. Kendi, Ph.D., on Friday, October 12 at 7:00pm, in the school auditorium. The event, free and open to the public, is suitable for ages 12 and up.
When Ibram X. Kendi, Ph.D. won the National Book Award for Nonfiction in 2016 for a book about the history of racist ideas in America, some people felt a disconnect. Emerging from eight years of leadership under an African-American president, a narrative was building in America about the emergence of a post-racial society, colorblind to race and valuing merit over skin color. Prof. Kendi challenges this notion in his New York Times-bestselling book Stamped from the Beginning: The Definitive History of Racist Ideas in America, taking an expansive view on race and racist ideas that spans from 15th-century Europe until modern day America. Prof. Kendi embarked on the research for his book under the assumption that the major producers of racist ideas were hateful and ignorant. And that borne from racist ideas were racist policies like slavery, Jim Crow, and mass incarceration. But as he dug deeper and contextualized motives, he began to gain a new understanding of the cause and effect actually at play. He soon discovered that political, economic, and cultural self-interest are behind the creation of racist policies and these policies in turn create the racist ideas that rationalize the deep inequities in everything from wealth to health.
Stamped from the Beginning uses the life stories of five major American intellectuals to offer a window into the contentious debates between assimilationists and segregationists and between racists and antiracists, including Puritan minister Cotton Mather, Thomas Jefferson, abolitionist William Lloyd Garrison, scholar W.E.B. DuBois, and anti-prison activist Angela Davis.


Prof. Kendi is Professor of History and International Relations and the Founding Director of the Antiracist Research and Policy Center at American University.
ETHS is located at 1600 Dodge Ave., Evanston, 60201. The auditorium is wheelchair accessible. Guests should plan to arrive at least 15 minutes prior to 7:00pm to find parking and seats. Parking is available in the lot across from the main entrance, off of Dodge Avenue, or in the lots behind the high school. Parking is also available along Dodge Avenue according to posted City of Evanston signs.
The October 12 presentation is sponsored by Family Action Network (FAN), in partnership with Evanston Township High School D202, Chiaravalle Montessori School, Connections for the Homeless, Youth & Opportunity United (Y.O.U.), and the YWCA Evanston/North Shore. For more information about FAN events and sponsors for the 2018-19 presentations, visit www.familyactionnetwork.net. For questions, email info@familyactionnetwork.net.