Return to Headlines
Fall season brings broad recognition for ETHS Speech and Debate
Nov 20, 2018 4:33pm CT
ETHS Speech and Debate Team members return from the Saxon Invitational at Schaumburg High School in the fall of 2018.
Evanston Township High School's Speech and Debate Team has made its mark in local and regional tournaments, with 68 students having competed for the high school in the 2018-19 school year. Competition results for the fall season include:
Junior

Isaac Slevin

qualified to the Tournament of Champions in Congressional Debate.

Junior

Henry Eberhart

and sophomore

Quinn Hughes

advanced to elimination rounds in Lincoln-Douglas debate at the MinneApple Tournament in Apple Valley, MN.

Junior

Ana Glassman

has earned "Best Presiding Officer" awards at two tournaments this fall.

Senior

Lane Deamant

championed their first ever Original Oratory tournament in October.

Junior

Rebecca Lustig

maintained her status as the best Extemporaneous Speaker in Chicago by winning the DePaul College Prep tournament.
Speech & Debate Team captains Ma'az Shaikh, Luis Toro, Callie Benson-Williams, and junior Joshua Ahn participated in the March For Our Lives night of student activism on October 3, sharing the stage with Congressional Representative Jan Schakowsky and speakers from the St. Sabina community and the National March for Our Lives movement.
"Our team continues to expand its cultural footprint through activism and equity efforts," noted ETHS Speech and Debate Coach Jeff Hannan. The Spanish Language Debate team has also grown this school year under the leadership of assistant coach Clare Delgado, who is working with students to host an in-school event in December as well as scrimmage event with a partner program in the spring.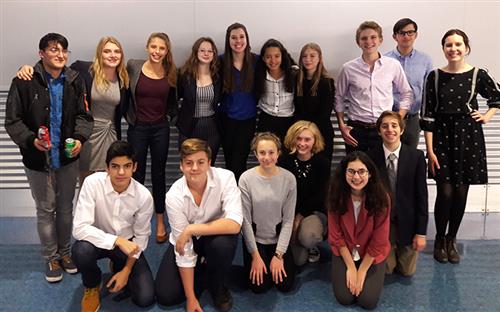 ETHS students competed in speech and debate events at the Sandburg High School Fall Festival in 2018.
The ETHS Speech and Debate Team earned membership in the National Speech and Debate Association's "200 Club", recognizing the top 10 percent of speech and debate programs in the nation.
Related link:
Evanston High School Speech and Debate Team receives top national recognition