Return to Headlines
ETHS hosts FAN event with Dr. Eve Ewing
Dec 6, 2018 7:30am CT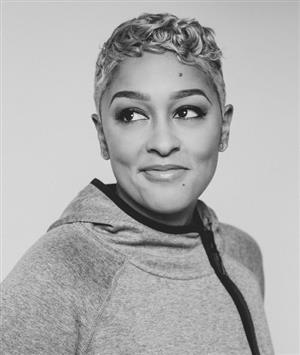 Eve Ewing (image by Nolis Anderson; from www.familyactionnetwork.net)
Evanston Township High School will host "Ghosts in the Schoolyard: Racism and School Closings on Chicago's South Side" with Eve L. Ewing, Ed.D., on Wednesday, December 12 at 7:00pm, in the school auditorium. The event, free and open to the public, is suitable for ages 12 and up.
In the spring of 2013, approximately 12,000 children in Chicago received notice that their last day of school would be not only the final day of the year, but also the final day of their school's very existence. The nation's third largest school district would eventually shutter 53 schools, citing budget limitations, building underutilization, and concerns about academic performance. Of the thousands of displaced students, 94% were low-income and 88% were African-American.
Ghosts in the Schoolyard tells the story of these school closings, from their unfolding to their aftermath, in Bronzeville, a historically significant African-American community on the South Side of Chicago. The book details the resistance efforts of the residents of Bronzeville, inspired by the legacy of a storied past and driven to fight back against the malfeasance and disregard of city political leaders. But at its core, this is a book about what schools really mean to Americans and to African-Americans in particular, beyond the brick and mortar that compose them or the test scores and graduation rates that garner the most public attention.
Dr. Ewing completed her doctorate at the Harvard Graduate School of Education. Prior to that, she received an undergraduate degree with honors in English Language & Literature from the University of Chicago, with a focus on African-American literature of the twentieth century. She also holds a MAT in Elementary Education from Dominican University and an M.Ed. in Education Policy and Management from Harvard.
ETHS is located at 1600 Dodge Ave., Evanston, 60201. The auditorium is wheelchair accessible. Guests should plan to arrive at least 15 minutes prior to 7:00pm to find parking and seats. Parking is available in the lot across from the main entrance, off of Dodge Avenue, or in the lots behind the high school. Parking is also available along Dodge Avenue according to posted City of Evanston signs.
The December 12 presentation is sponsored by Family Action Network (FAN), in partnership with Evanston Township High School D202, Connections for the Homeless, the MCGaw YMCA, Youth and Opportunity United (Y.O.U.), and the YWCA Evanston/NorthShore. For more information about FAN events and sponsors for the 2018-19 presentations, visit www.familyactionnetwork.net.