Return to Headlines
ETHS teacher selected as finalist for 2019 Golden Apple Awards
Feb 7, 2019 1:40pm CT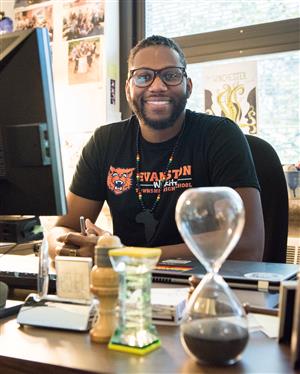 ETHS teacher Corey Winchester (Photo credit: Lynn Trautmann, LTPhoto)
Corey Winchester, History and Social Sciences teacher at Evanston Township High School, has been selected as one of the 32 finalists for the 2019 Golden Apple Awards for Excellence in Teaching. Golden Apple is dedicated to providing exceptional preparation for teachers at all stages of their careers and annually recognizes teachers for the positive impact they have made in their students' lives through teaching. This year, finalists made up just six percent of more than 550 nominations from 71 counties throughout Illinois.
"Even during his very first year teaching at ETHS, Corey was a standout teacher. By his third year of teaching here, we nominated him for the prestigious Those Who Excel Award in the state of Illinois," said ETHS District 202 Superintendent Eric Witherspoon. "And each year he has continued to grow and to make a positive difference in so many lives. His impact at ETHS is great. Students love him, and he is held in the highest esteem by all of us who are fortunate to be his colleagues."
Winchester is a staff coordinator for Students Organized Against Racism (SOAR), an ETHS student club, and was selected as a Teach Plus Fellow this school year. He is a 2013 recipient of the Illinois State Board of Education's Those Who Excel Award in the category of Early Career Educator. An alumnus of Northwestern University (BS10) and Loyola University (MEd2013), he also received Loyola's Distinguished Alumni Award in 2016 and is widely recognized for his equity and social justice efforts as an educator.
Golden Apple award finalists will be honored during the Golden Apple Celebration of Excellence on Saturday, February 23 at the Tinley Park Convention Center. The selected recipients of the award will be notified with a surprise visit to their schools in the spring.
For more information about the Golden Apple Awards for Excellence in Teaching, visit https://www.goldenapple.org/golden-apple-awards-for-excellence-in-teaching-finalists-announced.