Return to Headlines
ETHS art students participate in 2019 Illinois High School Art Exhibition
Mar 1, 2019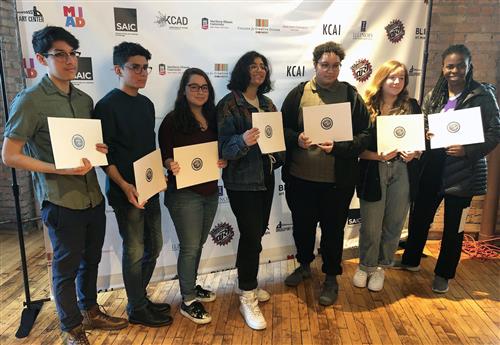 ETHS seniors at the IHSAE Senior Scholarship Exhibition on February 24. (From left): Daniel Aleman-Padilla, Rafael Martinez, Hannah Jacobowitz, Leah Brieva, Izzy Colbert, Eleanor Garry, and Erin Eddy.
On February 24, 17 ETHS students participated in the 2019 Illinois High School Art Exhibition (IHSAE), showcasing work in the General and/or Senior Scholarship Exhibitions.
Six students were selected for the General Exhibition, including Trotter Alexander, Dylan Anderson, Jack Bodine, Izzy Colbert, Damien Franchere, and Joe Leibforth. Leibforth was also awarded a silver medal for submitted artwork in the Design Category, in addition to winning a summer art school scholarship and summer internship.
The General Exhibition features student visual artworks from more than 100 high schools and is considered to be the "Best of the Best" competition developed by teachers to recognize high school students for their artistic excellence.
Additionally, 14 students were selected for the Senior Scholarship Exhibition, including Daniel Aleman-Padilla, Leah Brieva, Izzy Colbert, Erin Eddy, Eleanor Garry, Hannah Jacobowitz, Kameron Kull, Rafael Martinez, Leah Oppenheimer, Sage Patchett, Julia Saucier, Maya Schaefer-Fiello, Trotter Alexander, and Dylan Anderson. Each student received at least one scholarship.
The Senior Scholarship Exhibition, one of the most influential student scholarship exhibitions in Illinois, provides students with opportunities to succeed in higher education. More than 300 submissions totaling over 6,000 individual works are submitted for scholarship review every year.

The IHSAE is a not-for-profit organization that aims to advance art education for students through an art exhibition and education opportunities. For more information, visit https://www.ihsae.org.