Return to Headlines
ETHS among top two percent in nation's "Best High Schools" ranking
May 1, 2019 4:53pm CT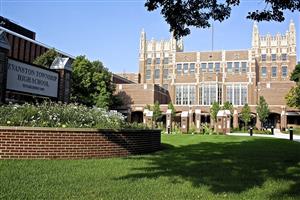 U.S. News & World Report released its "Best High Schools" rankings for 2019, placing Evanston Township High School (ETHS) at 27 in Illinois and 526 in the nation. Overall, ETHS received a score of 96.95 out of 100 on the national rankings scorecard.
According to the U.S. News website, the highest ranked public high schools were those that have demonstrated outstanding outcomes in math and reading state assessments, passed a variety of college-level exams, and held a high graduation rate.
"I am so proud of the students at ETHS and all the teachers and staff who support our students' academic and personal growth," said ETHS District 202 Superintendent Eric Witherspoon. "While many of the top-ranked high schools are selective enrollment schools, top-ranked ETHS is a comprehensive high school welcoming all students, and we rank in the top two percent of all the schools in the country for which data was available."
Collecting data from third-party sources, U.S. News completely revamped the methodology this year to help make the report more thorough, inclusive, and easier to understand. Due to the change, the 2019 rankings are not meant to be compared to U.S. News reports in the past. Instead, it will serve as a baseline to compare a school's performance in the future. Based on the new criteria, 17,245 public high schools of the 23,000 with data that was even considered were ranked for the 2019 edition.
More specifically, six indicators were used on a weighted scale to produce this year's ranking: College readiness (30% of the ranking); College curriculum breadth (10%); Reading and math proficiency (20%); Reading and math performance (20%); Underserved student performance (10%); and Graduation rate (10%).
Most high schools in America are not included in a ranking like the U.S. News report, based on data from the National Center for Education Statistics, since they would not meet the criteria. "It's noteworthy that we rank in the top one-half of one percent of all the public high schools in the United States when considering the total number," Witherspoon added. "That is truly an achievement and a reflection of the high value our Evanston Township community places on education."
To view ETHS' complete ranking profile, visit: https://www.usnews.com/education/best-high-schools/illinois/districts/evanston-twp-hsd-202/evanston-twp-high-school-6729
To learn more about the U.S. News & World Report's 2019 "Best High Schools" rankings, visit: https://www.usnews.com/education/best-high-schools.