Return to Headlines
ETHS hosts Community Garden Walk on September 26
August 8, 2019 9:11am CT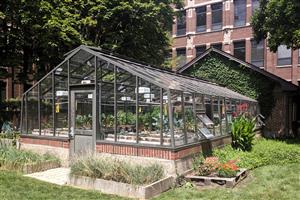 The ETHS Greenhouse is an outdoor learning space that will be highlighted at the Community Garden Walk.
Friends, families, and neighbors of Evanston Township High School (ETHS) are invited to a Community Garden Walk on Thursday, September 26 to celebrate the 10th anniversary of the Edible Acre, a farm-to-school garden program that procures organic produce and provides learning experiences, as well as leadership and job opportunities, for ETHS students. The event will be held from 5:30-7:30pm at the high school and is free and open to the public.
Highlighting the farm-to-school initiative launched with Edible Acre I, the Community Garden Walk will also showcase the recent renovation of the ETHS Greenhouse, offer a glimpse at the first-year harvest of Edible Acre 2, and showcase the 25 Asian pear and apple trees of the Edible Orchard. Guests of all ages will enjoy self-guided tours and scavenger hunts with prizes and takeaways at each garden location on the ETHS campus.
The evening will begin in the East Courtyard where the ETHS Jazz Band will perform and light refreshments will be served. ETHS students from Urban Agriculture classes and Evanston's Mayor Summer Youth Employment Program will be on site to share their farm-to-school experiences and answer questions about their participation.
ETHS is located at 1600 Dodge Ave., Evanston, 60201. The East Courtyard is wheelchair accessible. Parking is available in the lot across from the main entrance, off of Dodge Avenue, or in the lots behind the high school. Parking is also available along Dodge Avenue according to posted City of Evanston signs.

The ETHS Community Garden Walk will be hosted by the ETHS Nutrition Services Department, The Talking Farm, and the ETHS Foundation. For more information, contact Kim Minestra, ETHS director of nutrition services, at minestrak@eths.k12.il.us.