Return to Headlines
Six ETHS alums honored at annual Distinguished Alumni Awards
November 22, 2019 4:00pm CT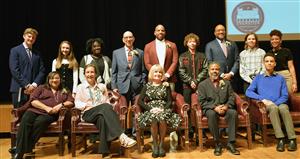 ETHS alumni and current students at the Distinguished Alumni Award ceremony in November 2019.
Six alumni of Evanston Township High School (ETHS) received the school's Distinguished Alumni Award at an induction ceremony on November 18, 2019. The ETHS District 202 Board of Education and the ETHS Alumni Association sponsored a recognition ceremony where the following recipients were honored: Josephine Allen (Class of 1991), Austin Brown (Class of 2003), Martin Cohen (1969), Morris "Dino" Robinson (Class of 1985), Frances Tietov (Class of 1962), and Rodney Williams (Class of 1979).
The Distinguished Alumni Award Selection Committee evaluates the nominations each year and selects the recipients. The committee is made up of students, current and former ETHS faculty and staff members, community members, and alumni. The ETHS Distinguished Alumni Award program was established to recognize and honor the outstanding accomplishments of ETHS graduates and, by celebrating these role models, inspire today's students to follow their own pursuit of excellence. This year's honorees shared advice and answered questions from the senior Class of 2020 before visiting ETHS classrooms throughout the day.
About the 2019-20 winners:
Josephine Allen (Class of 1991) is an educator and researcher at the University of Florida. Allen's love of science led her to obtain her Ph.D. from Northwestern University's Interdepartmental Biological Sciences (IBiS) Program. Her research broadly focuses on tissue engineering and regenerative medicine, with an emphasis on addressing the challenges associated with cardiovascular disease.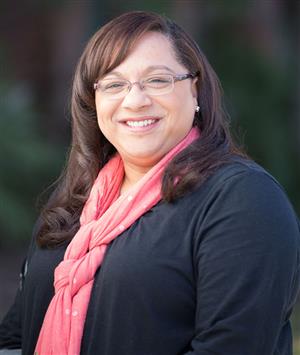 Josephine Allen (ETHS '91)
---
Austin Brown (Class of 2003) is the co-head of the Basketball Division at Creative Artists Agency (CAA) Sports. In 2015, Brown was recognized in Forbes magazine's "30 Under 30: The Sports World's Brightest Young Stars." Brown remains committed to community engagement and worked with clients on initiatives aimed to reduce gun violence in Chicago.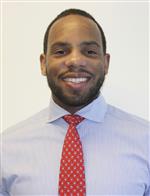 Austin Brown (ETHS '03)
---
Martin Cohen (Class of 1969) is an energy policy analyst and consultant. While working at the Citizens Utility Board, Cohen became fascinated by regulatory policy issues and went on to serve as the Executive Director for 20 years at the organization. He also worked on political campaigns for Harold Washington, former Mayor of Chicago, and U.S. Senator Paul Simon.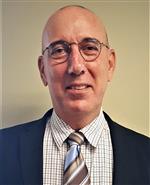 Martin Cohen (ETHS '69)
---
Morris "Dino" Robinson (Class of 1985) is a graphic designer and production coordinator at Northwestern University Press. Robinson is also the founder of Evanston's Shorefront Legacy Center, which collects and preserves information to educate people about black history throughout Chicago's North Shore. His work has been a model for creating community partnerships and active engagement.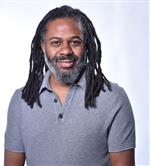 Morris "Dino" Robinson (ETHS '85)
---
Frances Tietov (Class of 1962) is an award-winning, retired principal harpist of the St. Louis Symphony Orchestra. Tietov re-established a chapter of the American Harp Society in St. Louis and formed a harp ensemble that performed free concerts at schools and senior citizen homes. The Grammy-nominated alumna also taught at Washington University in St. Louis and the St. Louis Conservatory of Music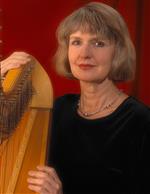 Frances Tietov (ETHS '62)
---
Rodney Williams (Class of 1979) is the head of a global wine and spirits brand and leader of numerous cause marketing activities such as the (RED) campaign, Thurgood Marshall College Fund, and the Hispanic Federation. Williams has received major awards and global honors designations in his field.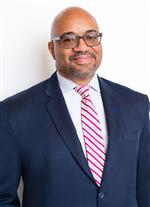 Rodney Williams (ETHS '79)