Return to Headlines
[UPDATE 3/16/2020: POSTPONED] ETHS hosts Family Action Network event with Robin DiAngelo
UPDATE: March 16, 2020
The FAN event with Robin DiAngelo has been POSTPONED. Please visit familyactionnetwork.net for any updates.
UPDATE: March 13, 2020
The FAN event with Robin DiAngelo will be LIVE-STREAMED ONLY. This is not an in-person event. Please visit the ETHS Wildkits YouTube channel to view the presentation beginning at 7:00pm on March 16.
---
Feb 28, 2020 10:00am CT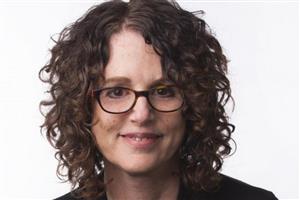 Robin DiAngelo, Ph.D. (image from www.familyactionnetwork.net)
Evanston Township High School will host "White Fragility" with Robin DiAngelo, Ph.D. on Monday, March 16, beginning at 7:00pm, in the school auditorium, located at 1600 Dodge Ave. The event is free and open to the public, suitable for ages 12 and up.
In her 2018 New York Times bestselling book White Fragility: Why It's So Hard for White People to Talk About Racism, University of Washington education professor Robin DiAngelo, Ph.D. explores the counterproductive reactions white people have when their assumptions about race are challenged. In her view, people in North America live in a social environment that protects and insulates them from race-based stress. This insulated environment of racial protection builds white expectations for racial comfort while at the same time lowering the ability to tolerate racial stress. Although white racial insulation is somewhat mediated by social class (with poor and working class urban whites being generally less racially insulated than suburban or rural whites), the larger social environment insulates and protects whites as a group through institutions, cultural representations, media, school textbooks, movies, advertising, and dominant discourses.
Racial stress results from an interruption to what is racially familiar. In turn, whites are often at a loss for how to respond in constructive ways, as they have not had to build the cognitive or affective skills or develop the stamina that would allow for constructive engagement across racial divides. leading to what Prof. DiAngelo refers to as "white fragility." White fragility is a state in which even a minimum amount of racial stress becomes intolerable, triggering a range of defensive moves. These moves include the outward display of emotions such as anger, fear, and guilt, and behaviors such as argumentation, silence, and leaving the stress-inducing situation. These behaviors, in turn, function to reinstate white racial equilibrium.
Prof. DiAngelo received her Ph.D. in Multicultural Education from the University of Washington/Seattle in 2004, and she earned tenure at Westfield State University in Massachusetts. Currently, she is Affiliate Associate Professor of Education at the University of Washington. She has taught courses in multicultural teaching, inter-group dialogue facilitation, cultural diversity and social justice, and anti-racist education.
RSVPs are not required. The line forms at 4:30pm, and doors open at 6:00pm for the 7:00pm event start time. Seating is first-come, first-served. Overflow seating is available.
Guests should plan to arrive at least 20 minutes before the start of the event to find parking and seats. Accessible seating is available in the auditorium. Parking is available in the lot across from the main entrance, off of Dodge Avenue, or in the lots behind the high school. Parking is also available along Dodge Avenue according to posted City of Evanston signs.
The March 16 presentation is sponsored by Family Action Network (FAN), in partnership with Evanston Township High School D202, Baker Demonstration School, Beacon Academy, Catherine Cook School, Chiaravalle Montessori School, Countryside Day School, Evanston Scholars, Foundation 65, Glencoe D35, Glencoe PTO, James B. Moran Center for Youth Advocacy, McGaw YMCA, Mindful Psychology Associates PC, North Shore Country Day School, Northwestern University School of Education and Social Policy, Regina Dominican College Preparatory High School, Rogers Park Montessori School, Roycemore School, Science and Arts Academy, Wolcott School, Young, Black & Lit, Youth & Opportunity United (Y.O.U.), and YWCA Evanston/North Shore.

For more information about FAN events and sponsors for the 2019-20 presentations, visit www.familyactionnetwork.net.