Return to Headlines
Virtual FAN event with Brittany K. Barnett on September 24
September 18, 2020 4:00pm CT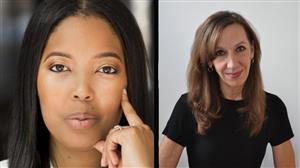 Brittany K. Barnett and Jeanne Bishop
(image from www.familyactionnetwork.net)
"A Knock at Midnight: A Story of Hope, Justice, and Freedom," a Family Action Network (FAN) conversation between Brittany K. Barnett and Jeanne Bishop, will be hosted on Thursday, September 24, beginning at 7:00pm via Zoom. The event is free and open to the public, suitable for ages 12 and up. Registration is required.
Brittany K. Barnett is an award-winning attorney who has dedicated her life to criminal justice reform. As the daughter of a formerly incarcerated mother and the once-girlfriend of an abusive drug dealer, Ms. Barnett has felt the far-reaching effects of mass incarceration firsthand. In battling this epidemic that devastates families and ravages communities, she has taken on a roster of clients who are almost exclusively people serving life sentences for federal drug offenses. Her tireless work has freed numerous individuals from overly harsh sentences imposed by draconian federal drug laws, including seven clients who received executive clemency from President Obama. More recently, she was part of the legal team that helped secure clemency from President Trump for Alice Johnson.
In her riveting debut, A Knock at Midnight: A Story of Hope, Justice, and Freedom, Ms. Barnett shares the powerful story of her awakening to the inhumanity of America's criminal justice system and her ongoing fight to unlock the human potential trapped senselessly behind bars. At once a coming-of-age story and a powerful evocation of what it takes to bring hope and justice to a system built to resist both at every turn, A Knock at Midnight lays bare the dire human costs of our broken legal system. But it is, at its heart, hopeful, offering a way forward from the painful realities it illuminates.
In addition to her successful law practice, Ms. Barnett is also an entrepreneur focused on social impact investing. She has founded several nonprofits and social enterprises, such as the Buried Alive Project, Girls Embracing Mothers, XVI Capital Partners, and Milena Reign LLC. She has earned many honors, including being named one of America's most Outstanding Young Lawyers by the American Bar Association.
Ms. Barnett will be interviewed by Ms. Bishop, assistant public defender in the Cook County Public Defender's Office and adjunct professor at Northwestern University Pritzker School of Law. Ms. Bishop is the sister of Nancy Bishop Langert, who was murdered in 1990 along with her husband and their unborn baby. Since the murders of her family members, she has been a passionate voice for forgiveness and mercy, particularly in the criminal justice system. Ms. Bishop appears in several documentaries, two TEDx talks, and the CBS 48 Hours segment "Road to Redemption." She is the author of a memoir, Change of Heart: Justice, Mercy and Making Peace with My Sister's Killer and the recently released Grace from the Rubble: Two Fathers' Road to Reconciliation After the Oklahoma City Bombing.
The September 24 webinar is sponsored by Family Action Network (FAN), in partnership with Evanston Township High School D202, Catherine Cook School, Chiaravalle Montessori School, Family Service Center, Lake Forest Country Day School, Latin School of Chicago, Loyola Academy, Loyola University, Chicago School of Law, Northwestern University School of Education and Social Policy, Pope John XXIII School, Porter-Gaud Parent Association, Regina Dominican College Preparatory High School, Rogers Park Montessori School, Roycemore School, Stevenson High School D125, The Family Institute at Northwestern University, Wintrust Bank, and Woodlands Academy of the Sacred Heart.
The event will be recorded and available later on FAN's website and YouTube channel. A bonus after-hours event is also available to webinar attendees. For more information, visit www.familyactionnetwork.net.