Return to Headlines
Virtual FAN Event with John Palfrey and Nichole Pinkard on February 18
February 12, 2021 2:30pm CT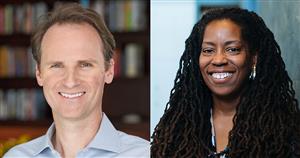 John Palfrey and Nichole Pinkard, Ph.D.
(image from www.familyactionnetwork.net)
"The Connected Parent: An Expert Guide to Parenting in a Digital World," a conversation between John Palfrey and Nichole Pinkard, Ph.D. will be held on Thursday, February 18, beginning at 7:00pm via Zoom. Registration is required.
In their new book The Connected Parent: An Expert Guide to Parenting in a Digital World, John Palfrey and Urs Gasser present their philosophy for parenting in a digital world: connected parenting, which empowers parents to engage positively with the young people in their life when it comes to digital issues. The connected parent understands the basics of how the digital world works but doesn't have to be an expert. The connected parent does have to roll up their sleeves and stay abreast of the technology, but it's also fine to recognize that your child will most likely know more about the technology. What's more important is to establish—and then keep open—a positive line of conversation about technology with our children. A parent can help kids make sound choices about their use of technology as they grow and as circumstances shift. Instead of always looking for the exact answer, the connected parent looks for a good conversation starter and a way to engage with a child.
The co-authors argue that connected parents shouldn't let fear guide their approach. Rather, they need to establish a sense of balance for the complex issues. While some online behaviors are risky, digital media provides immense potential for social and emotional growth, increased creativity and productivity, new avenues for learning and for engaging with the world, and opportunities to connect with a more diverse group of friends.
Mr. Palfrey will be interviewed by Nichole Pinkard, Ph.D., Associate Professor in the School of Education and Social Policy at Northwestern University and Faculty Director of the Office Community Education Partnerships. She is the founder of Digital Youth Network and L3, a social learning platform that connects youth's learning opportunities across the school, home, community, and beyond.
The February 18 webinar is sponsored by Family Action Network (FAN), in partnership with Evanston Township High School D202, Baker Demonstration School, Beacon Academy, Bennett Day School, Catherine Cook School, Compass Health Center, Family Service Center, Family Service of Glencoe, Foundation 65, Fusion Academy, Glencoe D35, Haven Youth and Family Services, Kenilworth D38, Lake Bluff D65, Lake Forest Country Day School, Lake Forest D67, Loyola Academy, Magnetar Capital, Mindful Psychology Associates PC, Near North Montessori School, New Trier High School D203, New Trier Parents' Association, North Shore Country Day School, Pope John XXIII School, Porter-Gaud Parent Association, Regina Dominican College Preparatory High School, Rogers Park Montessori School, Roycemore School, Northwestern University School of Education and Social Policy, Science and Arts Academy, Spirit of 67, St. Athanasius School PSO, Stevenson High School D125, The Alliance for Early Childhood, VillageMD, Winnetka D36, Wolcott College Prep, and Woodlands Academy of the Sacred Heart.
The event will be recorded and available later on FAN's website and YouTube channel. A bonus after-hours event is also available to webinar attendees. For more information, visit www.familyactionnetwork.net.