Return to Headlines
Virtual FAN Event with Ian Rosenberg on April 15
April 9, 2021 11:30am CT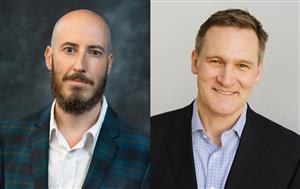 Ian Rosenberg, J.D. and Michael Signer, J.D., Ph.D.
(image from www.familyactionnetwork.net)
"The Fight for Free Speech: Ten Cases That Define Our First Amendment Freedoms," a conversation between Ian Rosenberg, J.D. and Michael Signer, J.D., Ph.D., will be held on Thursday, April 15, beginning at 7:00pm via Zoom. The event is free and open to the public, suitable for ages 12 and up. Registration is required.
Americans today are confronted by a barrage of questions relating to their free speech freedoms. What are libel laws, and do they need to be changed to stop the press from lying? Does Colin Kaepernick have the right to take a knee? Can Saturday Night Live be punished for parody? While people are grappling with these questions, they generally have nowhere to turn to learn about the extent of their First Amendment rights.
The Fight for Free Speech: Ten Cases That Define Our First Amendment Freedoms answers this call with an accessible, engaging user's guide to free speech. Media lawyer Ian Rosenberg distills the spectrum of free speech law down to ten critical issues. Each chapter in this book focuses on a contemporary free speech question—from student walkouts for gun safety to Samantha Bee's expletives, from Nazis marching in Charlottesville to the muting of adult film star Stormy Daniels— and then identifies, unpacks, and explains the key Supreme Court case that provides the answers. Together these fascinating stories create a practical framework for understanding where our free speech protections originated and how they can develop in the future.
Mr. Rosenberg has over twenty years of experience as a media lawyer, and he has worked as legal counsel for ABC News since 2003. He graduated with distinction from the University of Wisconsin–Madison, and magna cum laude from Cornell Law School. Mr. Rosenberg began his legal career clerking for a United States district court judge in the Eastern District of New York, and then working as a litigation associate at Cahill Gordon & Reindel.
Mr. Rosenberg will be in conversation with Michael Signer, J.D., Ph.D., an author and practicing attorney who served as mayor of Charlottesville, Virginia from 2016 – 2018. He is the author of three books, most recently, Cry Havoc: Charlottesville and American Democracy under Siege. He has written for the New York Times, Washington Post, and Time and has been interviewed by Meet the Press, Face the Nation, and NPR. He has been profiled by the New York Times, Washington Post, and CNN.
The April 15 webinar is sponsored by Family Action Network (FAN), in partnership with Evanston Township High School D202, Catherine Cook School, Chiaravalle Montessori School, Compass Health Center, Lake Forest Country Day School, Loyola University Chicago School of Law, North Shore Country Day School, Regina Dominican College Preparatory High School, Roycemore School, Science and Arts Academy, Stevenson High School D125, and Wolcott College Prep.
The event will be recorded and available later on FAN's website and YouTube channel. A bonus after-hours event is also available to webinar attendees. For more information, visit www.familyactionnetwork.net.