Return to Headlines
Virtual FAN Event with Carol Anderson on June 7
May 28, 2021 9:00am CT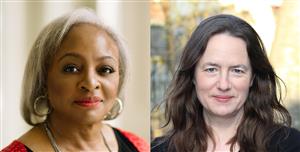 Carol Anderson, Ph.D., and Heather Cox Richardson, Ph.D.
(image from www.familyactionnetwork.net)
"The Second: Race and Guns in a Fatally Unequal America," a conversation between Carol Anderson, Ph.D., and Heather Cox Richardson, Ph.D., will be held on Monday, June 7, beginning at 7:00pm via Zoom. The event is free and open to the public, suitable for ages 12 and up. Registration is required.
In The Second: Race and Guns in a Fatally Unequal America, historian and award-winning, bestselling author Carol Anderson, Ph.D., powerfully illuminates the history and impact of the Second Amendment, how it was designed, and how it has consistently been constructed to keep African Americans powerless and vulnerable. The Second is neither a "pro-gun" nor an "anti-gun" book; the lens is the citizenship rights and human rights of African Americans.
From the eighteenth century, when it was encoded into law that the enslaved could not own, carry, or use a firearm whatsoever, until today, with measures to expand and curtail gun ownership aimed disproportionately at the African American population, the right to bear arms has been consistently used as a weapon to keep African Americans powerless – revealing that armed or unarmed, Blackness, it would seem, is the threat that must be neutralized and punished.
Dr. Anderson is the Charles Howard Candler Professor and Chair of African American Studies at Emory University. She is the author of One Person, No Vote, long-listed for the National Book Award and a finalist for the PEN/John Kenneth Galbraith Award; White Rage, a New York Times bestseller and winner of the National Book Critics Circle Award; Bourgeois Radicals; and Eyes off the Prize. She was named a Guggenheim Fellow for Constitutional Studies.
Dr. Anderson will be in conversation with Heather Cox Richardson, Ph.D., Professor of History at Boston College and an expert on American political and economic history. She is the author of six books on American politics including, most recently, How the South Won the Civil War: Oligarchy, Democracy, and the Continuing Fight for the Soul of America. Dr. Richardson is a leading #Twitterstorian, explaining the historical background of modern political issues through Twitter threads; the co-editor of We're History, a web magazine of popular history; and the author of "Letters from an American," a nightly newsletter chronicling current events available on Substack, with tens of thousands of subscribers.
The June 7 webinar is sponsored by Family Action Network (FAN), in partnership with Evanston Township High School D202, Baker Demonstration School, Catherine Cook School, Christ Church Winnetka, Compass Health Center, Countryside Day School, Evanston Scholars, Foundation 65, Fusion Academy, Loyola Academy, Mindful Psychology Associates PC, Pope John XXIII School, Regina Dominican College Preparatory High School, Rogers Park Montessori School, Roycemore School, Sacred Heart Schools, Stevenson High School D125, Wintrust Bank, Woodlands Academy of the Sacred Heart, and Youth & Opportunity United (Y.O.U.).
The event will be recorded and available later on FAN's website and YouTube channel. A bonus after-hours event is also available to webinar attendees. For more information, visit www.family action network.net.