Return to Headlines
Virtual FAN Event with Shaka Senghor on January 20
January 18, 2022 4:00pm CT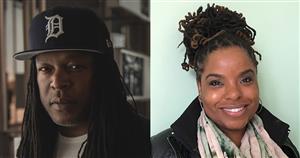 Shaka Senghor and Lolly Bowean
(image from www.family action network.net)
"Letters to the Sons of Society: A Father's Invitation to Love, Honesty, and Freedom," a conversation between Shaka Senghor and Lolly Bowean, will be held on Thursday, January 20, beginning at 7:00pm via Zoom. The event is free and open to the public, suitable for ages 12 and up. Registration is required.
Shaka Senghor has lived the life of two fathers. With his first son, Jay, born shortly after Senghor was incarcerated for second-degree murder, he experienced the regret of his own mistakes and the disconnection caused by a society that sees Black lives as disposable. With his second, Sekou, born after Senghor's release, he has experienced healing, transformation, intimacy, and the possibilities of a world where men and boys can openly show one another affection, support, and love.

In Letters to the Sons of Society: A Father's Invitation to Love, Honesty, and Freedom, a collection of beautifully written letters to Jay and Sekou, Senghor traces his journey as a Black man in America and unpacks the toxic and misguided messages about masculinity, mental health, love, and success that boys learn from an early age. He issues a passionate call to all fathers and sons to cultivate positive relationships with other men, seek healing, tend to mental health, grow from pain, and rewrite the story that has been told about them.
Senghor is a lecturer at universities, a leading voice on criminal justice reform, and the New York Times bestselling author of Writing My Wrongs: Life, Death, and Redemption in an American Prison.
Senghor will be in conversation with Lolly Bowean, a writer, an award-winning journalist, and community storyteller. Bowean currently manages the Journalism portfolio with the Creativity and Free Expression team at the Ford Foundation.
The January 20 webinar is sponsored by Family Action Network (FAN), in partnership with Evanston Township High School D202, Baker Demonstration School, Beacon Academy, Bennett Day School, Catherine Cook School, Chiaravalle Montessori School, Christ Church Winnetka, Compass Health Center, Connections for the Homeless, Evanston Scholars, Family Service of Glencoe, Foundation 65, Francis W. Parker School, Fusion Academy, Lake Forest Academy, Lake Michigan Association of Independent Schools, Latin School of Chicago, Loyola Academy, New Trier High School D203, New Trier Parents' Association, North Shore Country Day, Regina Dominican High School, Roycemore School, School of Education and Social Policy at Northwestern University, Science & Arts Academy, Stevenson High School D125, Wolcott College Prep, Woodlands Academy, and Youth & Opportunity United (Y.O.U.).
The event will be recorded and available later on FAN's website and YouTube channel. A bonus after-hours event is also available to webinar attendees. For more information, visit www.familyactionnetwork.net.