Return to Headlines
Virtual FAN Event with Moiya McTier on September 12
September 9, 2022 9:50am CT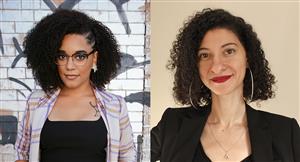 Moiya McTier, Ph.D. and Chanda Prescod-Weinstein, Ph.D.
(image from www.familyactionnetwork.net)
"The Milky Way: An Autobiography of Our Galaxy," a conversation between Moiya McTier, Ph.D. and Chanda Prescod-Weinstein, Ph.D., will be held on Monday, September 12, beginning at 7:00pm via Zoom. The event is free and open to the public, suitable for ages 12 and up. Registration is required.
In "The Milky Way: An Autobiography of Our Galaxy," astrophysicist and folklorist Moiya McTier, Ph.D. channels the Milky Way, detailing what humans have discovered about everything from its formation to its eventual death, and what more there is to learn about this galaxy we call home After a few billion years of bearing witness to life on Earth, of watching one hundred billion humans go about their day-to-day lives, of feeling unbelievably lonely, and of hearing its own story told by others, The Milky Way would like a chance to speak for itself. All one hundred billion stars and fifty undecillion tons of gas of it.
After graduating from Harvard University as the first person in the school's history to study both astronomy and mythology, Dr. McTier earned her Ph.D. in astrophysics at Columbia University, where she was selected as a National Science Foundation research fellow. She has consulted with companies like Disney and PBS on their fictional worlds, helped design exhibits for the New York Hall of Science, and given hundreds of talks about science around the globe. Dr. McTier also hosts and produces the "Exolore" podcast that explores fictional world-building through the lens of science.
Dr. McTier will be in conversation with Chanda Prescod-Weinstein, Ph.D., assistant professor of physics and astronomy and core faculty in women's and gender studies at the University of New Hampshire. Her 2021 book is "The Disordered Cosmos: A Journey into Dark Matter, Spacetime, and Dreams Deferred."
The September 12 webinar is sponsored by Family Action Network (FAN), in partnership with Evanston Township High School D202, Baker Demonstration School, Barrington D220, Beacon Academy, Catherine Cook School, Compass Health Center, Countryside Day School, Francis W. Parker School, Haven Youth and Family Services, Hyde Park Day School, Kenilworth D38, Lake Bluff D65, Lake Forest Academy, Lake Michigan Association of Independent Schools, Magnetar Capital, New Trier High School D203, New Trier Parents' Association, North Shore Country Day, Northwestern University School of Education and Social Policy, Rebel Human, Regina Dominican High School, Rogers Park Montessori School, Roycemore School, Science & Arts Academy, Stevenson High School D125, The Avery Coonley School, The Frances Xavier Warde School, University of Chicago Crown Family School of Social Work, Policy, and Practice, Wilmette Public Library, Woodlands Academy, and Youth & Opportunity United.
The event will be recorded and available later on FAN's website and YouTube channel. A bonus after-hours event is also available to webinar attendees. For more information, visit www.familyactionnetwork.net.