Return to Headlines
Virtual FAN Event with Carrie James and Emily Weinstein on September 20
September 15, 2022 4:10pm CT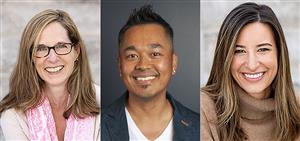 Carrie James, Ph.D., Merve Lapus, and Emily Weinstein, Ed.D.
(image from www.familyactionnetwork.net)
"Behind Their Screens: What Teens are Facing (and What Adults are Missing)," a conversation between Carrie James, Ph.D., Emily Weinstein, Ed.D, and Merve Lapus, will be held on Tuesday, September 20, beginning at 7:00pm via Zoom. The event is free and open to the public, suitable for ages 12 and up. Registration is required.
In Behind Their Screens: What Teens are Facing (and Adults are Missing), Emily Weinstein, Ed.D. and Carrie James, Ph.D., researchers at Project Zero at Harvard University's Graduate School of Education who are experts on teens and technology, explore the complexities that teens face in their digital lives, and suggest that many adult efforts to help—"Get off your phone!" "Just don't sext!"—fall short.
Drs. Weinstein and James, whose work has been covered in Time, The Boston Globe, The Washington Post, and The Atlantic, warn against a single-minded focus by adults on screen time. Teens worry about dependence on their devices, but disconnecting means being out of the loop socially, with absence perceived as rudeness or even a failure to be there for a struggling friend.
Drawing on a multiyear project that surveyed more than 3,500 teens, the authors explain that young people need empathy, not exasperated eye-rolling. Adults should understand the complicated nature of teens' online life rather than issue commands, and they should normalize—let teens know that their challenges are shared by others—without minimizing or dismissing.
Drs. James and Weinstein will be in conversation with Merve Lapus, vice president of education outreach and engagement at Common Sense Media.
The September 20 webinar is sponsored by Family Action Network (FAN), in partnership with Evanston Township High School D202, Baker Demonstration School, Barrington D220, Beacon Academy, Brickton Montessori School, Catherine Cook School, Chiaravalle Montessori School, Chicago Jewish Day School, Compass Health Center, Countryside Day School, Evanston Scholars, Family Service Center, Family Service of Glencoe, Foundation 65, Francis W. Parker School, Glencoe D35, Haven Youth and Family Services, Hyde Park Day School, Kenilworth D38, Lake Bluff D65, Lake Forest Academy, Lake Forest Country Day School, Lake Michigan Association of Independent Schools, Loyola Academy,Mindful Psychology Associates, Morgan Park Academy, Near North Montessori School, New Trier High School D203, New Trier Parents' Association, North Shore Country Day, Northwestern University School of Education and Social Policy, Pope John XXIII School, Rebel Human, Regina Dominican High School, Rogers Park Montessori School, Roycemore School, Sacred Heart Schools, Santa Clara University School of Law, Science & Arts Academy, Stevenson High School D125, The Alliance for Early Childhood, The Avery Coonley School, The Family Institute at Northwestern University, The Frances Xavier Warde School, University of Chicago Crown Family School of Social Work, Policy, and Practice, University of Chicago Laboratory Schools Parents' Association, Winnetka D36, Wolcott College Prep, and Woodlands Academy.
The event will be recorded and available later on FAN's website and YouTube channel. For more information, visit www.familyactionnetwork.net.