Return to Headlines
Virtual FAN Event with Laurence Heller and Brad Kammer on November 17
November 4, 2022 12:05pm CT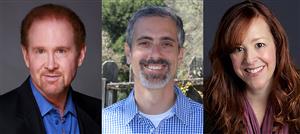 Laurence Heller, Ph.D., Brad Kammer, LMFT, and Stefanie Klein, LCSW
(image from www.familyactionnetwork.net)
"Healing Developmental Trauma," a conversation between Laurence Heller, Ph.D., Brad Kammer, LMFT, and Stefanie Klein, LCSW, will be held on Thursday, November 17, beginning at 7:00pm via Zoom. Registration is required.
In their ground-breaking and best-selling new book, The Practical Guide to Healing Developmental Trauma, Laurence Heller Ph.D. and Brad Kammer, LMFT present a practical guide to the NeuroAffective Relational Model (NARM), one of the first comprehensive therapeutic models for addressing adverse childhood experiences (ACEs) and complex trauma (C-PTSD). In this book, they share therapeutic applications, concrete skills, and exercises for personal growth. This new book was written to support the healing of attachment, relational, developmental, cultural, and intergenerational trauma, and it serves as a therapeutic guide for helping professionals working with complex trauma or anyone wanting to lead a more fulfilling life.
For this event, they will discuss the healing of complex trauma, focusing on topics such as differentiating PTSD (shock trauma) and C-PTSD (complex trauma), how Adverse Childhood Experiences (ACES) lead to shame and various symptoms and disorders, the ways NARM therapeutic skills can be applied for resolving the impact of complex trauma, and what practical tips they can share for those in attendance to take away for their clients and themselves. Heller and Kammer will explain why they created this model and what makes it different from other trauma treatment modalities.
Heller and Kammer will be in conversation with Stefanie Klein, LCSW, assistant training director and faculty member for the NARM Training Institute.
The November 17 webinar is sponsored by Family Action Network (FAN), in partnership with Evanston Township High School D202, Beacon Academy, Brickton Montessori School, Catherine Cook School, Compass Health Center, Connections for the Homeless, Evanston Scholars, Family Service Center, Family Service of Glencoe, Foundation 65, Glencoe D35, Gorton Community Center, Haven Youth and Family Services, Hyde Park Day School, Kenilworth D38, Lake Bluff D65, Lake Forest High School D115, Lake Michigan Association of Independent Schools, Loyola Academy, Mindful Psychology Associates, Morgan Park Academy, New Trier High School D203, North Shore Country Day, Northwestern University School of Education and Social Policy, Regina Dominican High School, Roycemore School, Science & Arts Academy, Stevenson High School D125, The Cove School, The Family Institute at Northwestern University, The Frances Xavier Warde School, University of Chicago Crown Family School of Social Work, Policy, and Practice, Winnetka-Northfield Public Library District, and Woodlands Academy.
The event will be recorded and available later on FAN's website and YouTube channel. For more information, visit www.familyactionnetwork.net.