Return to Headlines
Virtual FAN Event with Nick Riggle on January 19
January 12, 2023 7:30am CT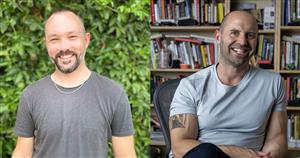 Nick Riggle, Ph.D. and Todd Kashdan, Ph.D.
(image from www.familyactionnetwork.net)
"This Beauty: A Philosophy of Being Alive," a conversation between Nick Riggle, Ph.D. and Todd Kashdan, Ph.D., will be held on Thursday, January 19, beginning at 7:00pm via Zoom. The event is free, suitable for ages 12 and up. Registration is required.
Before Nick Riggle, Ph.D. became an acclaimed philosopher and a new father, he was a pro skater and high school dropout. Reflecting on his past and on the brink of bringing new life into this world, he asks the fundamental question of why we should value our lives even though we did not ask for or consent to them. The conventions of everyday language urge us to value this life and to make the most of it: "seize the day," "treat yourself," "you only live once." While these expressions might appear cliché, they also convey a sense of life's urgency and fleeting nature. Yet does the finiteness of life, or a feeling that it is precious, itself offer sufficient reason to love life? And does it give us any clue as to how we might go about living?
An associate professor of philosophy at the University of San Diego, Riggle uses these questions as his basis for launching a profound and life- affirming inquiry, exploring the nature of beauty—the beauty of this day, this body, this moment, these people—and developing the idea that aesthetic value makes life not only worth living, but worth engaging with and amplifying as beautiful. The result is a refreshing, philosophically ambitious but surprisingly practical guide for understanding ourselves and how best to live, both in our own lives and in relation to others.
Riggle will be in conversation with Todd Kashdan, Ph.D. (FAN '22), professor of psychology at George Mason University. Awarded the 2013 Distinguished Early Career Researcher Award by the American Psychological Association, Kashdan is among the world's top experts on the psychology of well-being, psychological strengths, mental agility, and social relationships. His most recent book is The Art of Insubordination: How to Dissent and Defy Effectively. His writing has appeared in the Harvard Business Review, National Geographic, and other publications, and his research is featured regularly in media outlets such as The New York Times, The Atlantic, Fast Company, and Time Magazine.
The January 19 webinar is sponsored by Family Action Network (FAN), in partnership with Evanston Township High School D202, Baker Demonstration School, Bernard Zell Anshe Emet Day School, Catherine Cook School, Chiaravalle Montessori School, Chicago Jewish Day School, Compass Health Center, Countryside Day School, Family Service Center, Family Service of Glencoe, Foundation 65, Francis W. Parker School, Glencoe D35, Gorton Community Center, Haven Youth and Family Services, Hyde Park Day School, Kenilworth D38, Lake Bluff D65, Lake Forest Country Day School, Lake Michigan Association of Independent Schools, Leo Catholic High School, Mindful Psychology Associates, Morgan Park Academy, New Trier High School D203, New Trier Parents' Association, North Shore Country Day, Northwestern University School of Education and Social Policy, Rebel Human, Regina Dominican High School, Resurrection College Prep High School, Rogers Park Montessori School, Roycemore School, Science & Arts Academy, Stevenson High School D125, The Avery Coonley School, The Family Institute at Northwestern University, The Frances Xavier Warde School, Wilmette Public Library, Winnetka-Northfield Public Library District, Wintrust Financial, and Woodlands Academy.
The event will be recorded and available later on FAN's website and YouTube channel. For more information, visit the Family Action Network website.