Return to Headlines
19th Annual Evanston Township High School Jazz Festival Kicks Off February 11
February 2, 2023 9:30am CT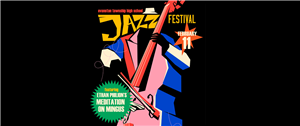 The 2023 Evanston Township High School Jazz Festival will be held on Saturday, February 11, in the school auditorium. It is a daylong event that culminates with a special evening concert featuring Ethan Philion's Meditation on Mingus. The ETHS Jazz Ensemble will open the 7:00pm concert under the direction of Matthew Bufis. Tickets can be purchased online. They are $20 for adults, and $15 for children, students with IDs, and people 65 and older.
Throughout the day, nearly 40 bands and combos from 15 schools in Illinois, Wisconsin, and Indiana–including ETHS's nine bands and combos–perform in front of world class professional musicians, university professors, and educators. The experts lead clinics after each session, offering musicians personalized advice, encouragement, and guidance.
"The young men and women participating today represent the future of jazz music," said Bufis. "They'll be challenged by distinguished clinicians and have the chance to observe some of the best jazz artists that keep the genre evolving."
Overall, more than 1,000 musicians, community members, and jazz fans are expected to attend the event at Evanston Township High School, which boasts one of the best programs in Illinois and the Midwest. This long-standing tradition has brought in such great artists as Maynard Ferguson, The Jeff Hamilton Trio, Slide Hampton, the Chicago Jazz Orchestra, and the Chicago Jazz Philharmonic.
About the ETHS Jazz Festival
Each February, Evanston Township High School is home to this non-competitive, all-day jazz immersion event. Established in 2004, the ETHS Jazz Festival inspires students of all levels. Professional musicians, along with lectures and master classes, encourage students to take their playing to the next level. This educational and cultural jazz festival has earned its distinction by providing the opportunity to showcase local, national and international artists. It is the mission of the ETHS Jazz Festival to provide an important supplement to the students' pursuit of jazz by highlighting the enduring elements and important innovations of this distinctly American music. All proceeds from the ETHS Jazz Fest ticket sales benefit jazz education at ETHS.
The ETHS auditorium, 1600 Dodge Avenue in Evanston, is wheelchair accessible. Parking is recommended in the lot on Dodge Avenue, directly across from the auditorium entrance. For more information, contact the ETHS Fine Arts Office at 847-424-7130.