Return to Headlines
FAN Event at ETHS with Samantha Irby on May 19
May 11, 2023 4:35pm CT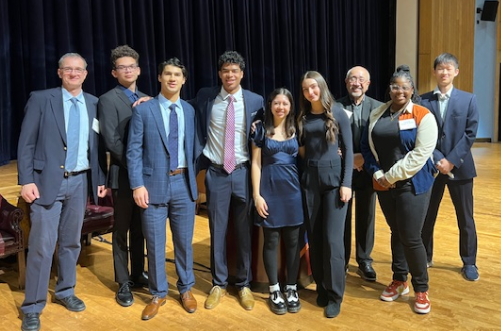 Samantha Irby and Megan Stielstra
(image from www.familyactionnetwork.net)
"Quietly Hostile: A Conversation with Samantha Irby," a conversation with Samantha Irby and Megan Stielstra, will be held on Friday, May 19, beginning at 7:00pm, in the Evanston Township High School auditorium, located at 1600 Dodge Ave. The event is free and open to the public, suitable for ages 16 and up. No registration is required.
Beloved #1 New York Times bestselling author of Wow, No Thank You, Samantha Irby has returned to the printed page with Quietly Hostile, a much-anticipated new collection of side-splitting essays, and not a moment too soon. Irby's career has taken her to new heights. She dodges calls from Hollywood and flop sweats on the red carpet at premieres (well, one premiere). But nothing is ever as it seems online, where she can crop out all the ugly parts.
Irby got a lot of weird emails about Carrie Bradshaw, and not only is there diarrhea to avoid, but now—anaphylactic shock. She is turned away from restaurants for being inappropriately dressed and looks for the best ways to cope, i.e., reveling in the offerings of QVC and adopting a deranged pandemic dog. Filled with such unabashed gems as advice for the bathroom etiquette you were dying to know but always too afraid to ask about and an exposé on how to speak with an actual teenager, Quietly Hostile makes light as Irby takes us on another outrageously funny tour of all the gory details that make up the true portrait of a life behind the screenshotted depression memes. Relatable, poignant, and uproarious, once again, Irby is the tonic we all need to get by.
Irby writes the blog Bitches Gotta Eat, and has several bestselling essay collections, including the New York Times #1 bestseller Wow, No Thank You and We Are Never Meeting in Real Life. She was a writer and co-producer on And Just Like That …, the HBO reboot of Sex and the City. Irby is an Evanston Township High School alum.
Irby will be in conversation with Megan Stielstra, the author of three collections: Everyone Remain Calm, Once I Was Cool, and The Wrong Way to Save Your Life, the Nonfiction Book of the Year Award from the Chicago Review of Books. A longtime company member with 2ndStory, she has told stories for National Public Radio, the Museum of Contemporary Art, and regularly with the Paper Machete live news magazine at the Green Mill. She teaches creative nonfiction at Northwestern University and is an editor-at-large with Northwestern University Press.
Guests should plan to arrive at least 15 minutes before the start of the event to find parking and seats. Accessible seating is available in the auditorium. Parking is available in the lot across from the main entrance, off of Dodge Avenue, or in the lots behind the high school. Parking is also available along Dodge Avenue according to posted City of Evanston signs.
The May 19 event will be recorded and available on FAN's website and YouTube channel. For more information, including a list of sponsors for the event, visit the Family Action Network website.