Return to Headlines
Take the ETHS Virtual Tour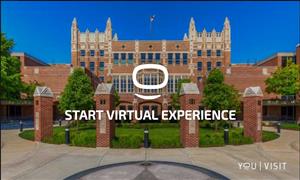 Evanston Township High School launched a virtual tour at the beginning of the 2017-18 school year, giving prospective families and other visitors the opportunity to explore the high school's campus at any time, from anywhere. Using 3D panoramic photography and narration, the ETHS Virtual Tour features 360-degree panoramic images connect to each stop.
Highlights of the virtual tour experience include scenes in ETHS classrooms, special facilities, outdoor learning spaces, and more. During the online tour, visitors travel the campus while learning facts about the selected spaces. The tour narration is available in English and Spanish, and the platform also features text-only subtitles. The ETHS Virtual Tour can be viewed from any laptop, desktop or mobile device for an up-close and personal view of the high school's campus. A "walking tour" experience is available when downloading the ETHS Virtual Tour app on your mobile device.
With the Virtual Tour option, ETHS will be able broaden its reach to accommodate out-of-state or international families. Accessibility is also increased for those with limited mobility or a hearing impairment. Furthermore, the ETHS Virtual Tour helps additional audiences (e.g. alumni, friends and family of current students, etc.) "visit" the school at any time. ETHS continues to host Campus Tour Days on select Saturdays of the school year.
Click here to launch the ETHS Virtual Tour. To download the free ETHS Virtual Tour app on your mobile device, search for "ETHS YouVisit" in the App Store (Apple devices) or Google Play Store (Android devices).

For more information, contact the ETHS Communications Office at communications@eths.k12.il.us.