Return to Headlines
African-American Youth Achievement Awards recognize Evanston students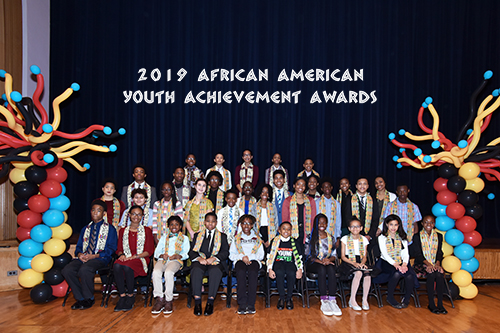 Students from Evanston/Skokie school districts 65 and 202 were honored at the African-American Youth Achievement Awards program on February 7. (Photo: Evanston Photographic/Genie Lemieux)
Evanston Township High School hosted the 22nd annual African-American Youth Achievement (AAYA) Awards to honor 38 African-American students from Evanston/Skokie public schools. These students were recognized on February 7, 2019, for their daily actions that pay homage to the visions and legacy of African-American pioneers.
The AAYA program is part of a Black History Month initiative and was sponsored by the Ivy Pearl Foundation, Alpha Kappa Alpha Sorority Inc., Delta Chi Omega Chapter, Delta Sigma Theta Sorority Inc., Evanston North Shore Alumnae Chapter, Family Focus Evanston, Dr. Gilo Kwesi Logan, The Joe "Butch" Martin Fund, Northwestern University, McGaw YMCA, NAACP, Omega Pi Zeta of Zeta Phi Beta Sorority, Inc., Shorefront, and Gerri Sizemore, in conjunction with Evanston/Skokie School District 65 and Evanston Township High School District 202.
2019 high school AAYA recipients
Evanston Township High School
Lys Acacia
Beyonce Bailey
Dystonae Clark
Demarcus Dennison
Donald Gibbs
Darius Johnson
Sarah Parisien
Elisa Walker
2019 middle school AAYA recipients
Chute —
William Campbell
Ava Moseley
Haven —
Jahvar Quire
Ariana Williams
Nichols —
Tyler Shaun Alexander
Sadaya Deeble
2019 elementary and magnet school AAYA recipients
Bessie Rhodes —
Olaitan Dada
Cecily Jordan
Dawes —
Noah Nelson
Hani Ramos
Dewey —
Teshawna Rhaburn
Arnon Timms
King Arts —
Tyler Dobson
Shaneil Henderson
Kingsley —
Abdul Ouedraogo
Kayla Strickland
Lincoln —
Anna Iwuagwu
Carter McIntosh
Lincolnwood —
Dylan Quire
Rhiana Ruddock
Oakton —
Cross Mitchell
Elyse Pinckney
Orrington —
Jakyra Lockhart
Edouard Josef Millner
Walker —
Ethan Carpenter
Skylar Lomax
Washington —
Ashlee Murray
Billy Price
Willard —
Eleanor Ghogomu
Micah Smith
As part of the AAYA program, the Living Legend-Trailblazer Award honors African-American Evanstonians for their leadership and community contributions that encourage and inspire African-American youth. The 2019 recipient of the Living Legend-Trailblazer Award is Hecky Powell, founder and owner of Hecky's Barbecue.