Return to Headlines
ETHS District 202 recognized as a Project Lead The Way Distinguished School
March 7, 2019 12:45pm CT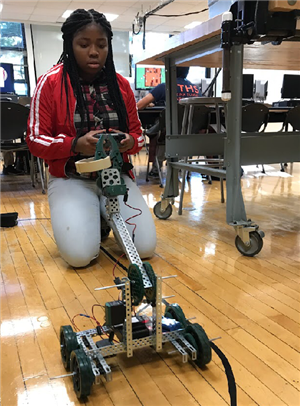 ETHS student Kimora Boothe worked on a robotics project as part of the Girls Robotics Team.
Evanston Township High School (ETHS) District 202 has been nationally recognized as a Project Lead The Way (PLTW) Distinguished School for providing transformative learning opportunities through the PLTW Engineer Program.
PLTW is a nonprofit organization that aims to empower students to develop in-demand, transportable knowledge and skills through pathways in computer science, engineering, and biomedical science. The Distinguished School recognition honors schools, PreKindergarten-12th grade, committed to increasing student access, engagement, and achievement in their programs.
"Being recognized as a PLTW Distinguished School is a special honor for ETHS. In the past decade, we have invested millions of dollars into expanding our Career and Technical Education programs into world-class options with top-flight instruction for our students," said ETHS District 202 Superintendent Eric Witherspoon.
To be eligible for the Distinguished School designation, ETHS District 202 met the following criteria during the 2017-18 school year:
Offered at least three PLTW courses;

Had 25 percent of students or more participate in PLTW courses, or of those who participated in PLTW, at least 33 percent took two or more PLTW courses during their high school tenure;

Had 70 percent of students or more earn a Proficient or higher on PLTW End-of-Course Assessments, or 10 percent of students earn the

AP + PLTW Student Achievement

.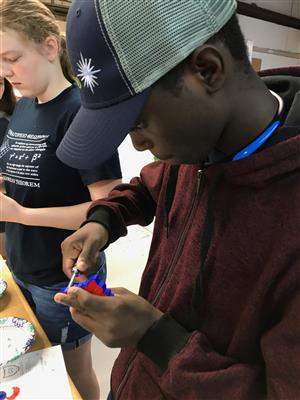 Manufacturing classes at ETHS provide students Maeve McMahon and Joshua Sekyere with hands-on skills and technical training.
ETHS became a PLTW-certified school in Spring 2008 and now offers six rigorous PLTW Engineering classes through the Career & Technical Education (CTE) Department. Each course integrates national academic and technical learning standards and Science, Technology, Engineering, Arts, and Mathematics (STEAM) principles to solve real-world problems through an innovative lens in a collaborative classroom setting.
The classes, which have a grade weight equal to Advanced Placement courses, use a curriculum developed and maintained by a consortium of leading engineering universities and the private sector to introduce high school students to the many facets of engineering. Students enrolled in these courses also have the ability to receive college credit at a PLTW-affiliated engineering college/university.
"Whether students intend to go to college or directly into the workforce, we are fully committed to preparing them for meaningful 21st-century careers," Dr. Witherspoon remarked. "Kudos to our teachers, department chair and students who have worked tirelessly and set high expectations to make this prestigious award a reality."
For more information about the PLTW Engineering program at ETHS, contact Dr. Shelley Gates, CTE Department Chair, at gatess@eths.k12.il.us.