Return to Headlines
Evanston High School hosts Campus Tour Days for 2019-20
September 6, 2019 9:00am CT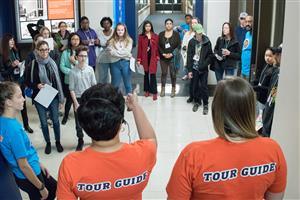 Evanston Township High School invites prospective and new families and individuals who work, live, or own businesses in the District 202 Evanston/Skokie community to attend a campus tour of the high school on select Saturdays during the school year. The first tour of the school year is scheduled to take place on September 21, 2019.
The ETHS Campus Tour Days are designed to provide a guided tour of the school's facilities, including the career and technical education wing, libraries, a science lab, The Hub (student success center), and fine arts/performing arts areas. Featured spaces also include the historic Beardsley Gym, the Milligan Center for Entrepreneurship, and the Manufacturing Lab.
Each tour is approximately one hour in duration and is followed by an optional 20-minute question/answer session. Campus Tour Days are hosted by the ETHS Welcome Center and Communications Office with support from Student and Parent Ambassadors.
2019-20 Campus Tour Days will take place at 10:00am on the following Saturdays:
September 21, 2019

October 26, 2019

December 7, 2019

January 25, 2020

(Spanish-language tour)

February 8, 2020

March 7, 2020

April 25, 2020
ETHS will host a Spanish-language tour on January 25. Families interested in attending can register online. Please contact the Latino Liaison Office at 847-424-7166 for more information.
Registration is required to attend any of the Campus Tour Days and is available online through the ETHS website. While childcare is not provided, children may attend Campus Tour Day with a registered adult; please note that tours are not recommended for children under the age of five or people with limited mobility due to extensive walking. For more information about campus tours, contact the ETHS Welcome Center at 847-424-7008.
ETHS also offers a Virtual Tour option, increasing accessibility to see the ETHS campus at any time, from any location. To launch the ETHS Virtual Tour, visit www.eths.k12.il.us/virtualtour. To download the free ETHS Virtual Tour app on your mobile device, search for "ETHS YouVisit" in the App Store or Google Play Store.
For more information, contact the ETHS Communications Office at communications@eths.k12.il.us.