Return to Headlines
ETHS hosts Family Action Network event with Alexandra Solomon, Ph.D. on March 5
Feb 17, 2020 8:00am CT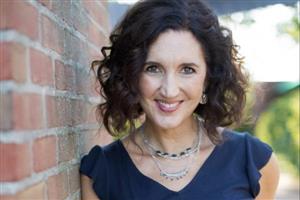 Alexandra Solomon, Ph.D. (image from www.familyactionnetwork.net)
Evanston Township High School will host "Love, Sex, and Intimacy" with Alexandra Solomon, Ph.D. on Thursday, March 5, beginning at 7:00pm, in the school auditorium, located at 1600 Dodge Ave. The event is free and open to the public. The presentation will be recorded. Due to the nature of the topic, parental discretion is advised.
In the opening pages of her latest book, Taking Sexy Back: How to Own Your Sexuality and Create the Relationships You Want, the esteemed relationship expert Alexandra Solomon, Ph.D. quotes Neale Donald Walsch, one of her favorite spiritual teachers: "There are only two energies at the core of human experience: love and fear." She then explores this dichotomy throughout the book, urging an understanding and experience of your own sexuality not from the "outside-in" but from the "inside-out." She summarizes her case: "The journey toward greater sexual self-awareness is about moving away from fear and toward love. When sex is shrouded in fear, shame, pain, misinformation, and silence flourish. When sex is infused with love, healthy boundaries, mutuality, respect, and pleasure flourish." Taking Sexy Back offers a powerful and holistic approach to help you reclaim your sexuality, communicate your desires, draw boundaries, be safe, and build satisfying relationships.
Solomon is a Clinical Assistant Professor in the Department of Psychology at Northwestern University, a lecturer in NU's School of Education and Social Policy, a licensed clinical psychologist at The Family Institute at Northwestern University, and is on faculty at The Omega Institute. She teaches the internationally renowned NU undergraduate course, "Building Loving and Lasting Relationships: Marriage 101."
Solomon will be interviewed by her colleague Eli Finkel, Ph.D. (FAN '17), author of the best-selling book The All-or-Nothing Marriage and Director of the Relationships and Motivation Lab at Northwestern University
Guests should plan to arrive at least 20 minutes before the start of the event to find parking and seats. Accessible seating is available in the auditorium. Parking is available in the lot across from the main entrance, off of Dodge Avenue, or in the lots behind the high school. Parking is also available along Dodge Avenue according to posted City of Evanston signs.
The March 5 presentation is sponsored by Family Action Network (FAN), in partnership with McGaw YMCA, Mindful Psychology Associates PC, and The Family Institute at Northwestern University. For more information about FAN events and sponsors for the 2019-20 presentations, visit www.familyactionnetwork.net.