Return to Headlines
African-American Youth Achievement Awards recognize Evanston students
Feb 27, 2020 10:00am CT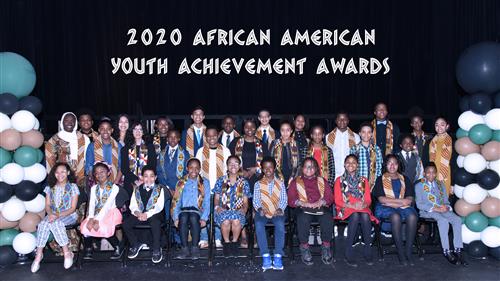 Students from Evanston/Skokie school districts 65 and 202 were honored at the African-American Youth Achievement Awards program on February 21. (Photo: Evanston Photographic/Genie Lemieux)
Evanston Township High School hosted the 23rd annual African-American Youth Achievement (AAYA) Awards to honor 37 African-American students from Evanston/Skokie public schools. These students were recognized on February 21, 2020, for their daily actions that pay homage to the visions and legacy of African-American pioneers.
The AAYA program is part of a Black History Month initiative and was sponsored by the Ivy Pearl Foundation, Alpha Kappa Alpha Sorority Inc., Delta Chi Omega Chapter, Byline Bank, Chessmen, Delta Sigma Theta Sorority Inc., Evanston North Shore Alumnae Chapter, Evanston Community Bank & Trust, Family Focus Evanston, The Joe "Butch" Martin Fund, McGaw YMCA, NAACP, Northwestern University, Omega Pi Zeta of Zeta Phi Beta Sorority, Inc., Hecky Powell, Shorefront, Gerri Sizemore, Soul Creations, Mary Wilkerson and in conjunction with Evanston/Skokie School District 65 and Evanston Township High School District 202.
2020 high school AAYA recipients
Evanston Township High School
Darrion Coleman
Nemili Cooper
Trinity Jenkins
Soumia Kaltimi
Olu Logan
Grey Miller
Ba'niah Robinson
Celister Wright
2020 middle school AAYA recipients
Chute —
Gabrielle Burnett
James Edward Green
Haven —
Heaven Adams
Joseph Erner
Nichols —
Makani Brocks
Damarion Timberlake
2020 elementary and magnet school AAYA recipients
Bessie Rhodes —
Josiah Hardy
Kara Taylor
Dawes —
Ingrid Sylvestre
Dewey —
Aneeya McCoy
Nicholas Williams
King Arts —
Leela Gaede
Jacques Philippe
Kingsley —
Zora Copeland
Kamden White
Lincoln —
Makeda Hausman
Welcome Kaplan-Block
Lincolnwood —
Nelson Mbangamoh
Ebony Turner
Oakton —
Demarco Powell
Lyric Rogers
Orrington —
Nathanael Beaubrun
Trinity Printis
Walker —
Dillon Pompey
Vivian Solomon
Washington —
Alexis Simon
Julian Travis
Willard —
Sophia Asante
Darren Whitehead
As part of the AAYA program, the Living Legend-Trailblazer Award honors African-American Evanstonians for their leadership and community contributions that encourage and inspire African-American youth. The 2020 recipient of the Living Legend-Trailblazer Award is Rose Johnson.