Return to Headlines
Virtual FAN event with David Epstein on October 21
October 14, 2020 12:10 CT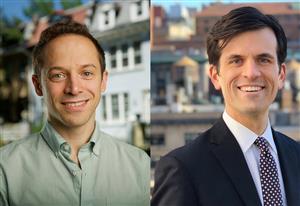 David Epstein and Joy Hurd
(image from www.familyactionnetwork.net)
"Range: Why Generalists Triumph in a Specialized World," a Family Action Network (FAN) conversation between David Epstein and Joy Hurd, will be hosted on Wednesday, October 21, beginning at 7:00pm via Zoom. The event is free and open to the public, suitable for ages 12 and up. Registration is required.
What's the most effective path to success in any domain? In his most recent book Range: Why Generalists Triumph in a Specialized World, Mr. Epstein (FAN '16) examines the world's most successful athletes, artists, musicians, inventors, forecasters and scientists. He discovered that in most fields—especially those that are complex and unpredictable—generalists, not specialists, are primed to excel. Generalists often find their path late, and they juggle many interests rather than focusing on one. They're also more creative, more agile, and able to make connections their more specialized peers can't see.
Range is a provocative, compelling book that has been lauded by past FAN speakers Susan Cain (FAN '13), Adam Grant, Ph.D. (FAN '14 and '16), and Dan Pink (FAN '18). Mr. Epstein makes a compelling case for actively cultivating inefficiency. Sharing fascinating examples from the career trajectories of Duke Ellington and Roger Federer to a preeminent CEO who took her first job around the age her peers were retiring, he shows that at every stage of life, from the development of children in math, music and sports to students fresh out of college trying to find their way, to midcareer professionals in need of a change and would-be retirees looking for a new vocation after moving on from their previous one — generalists triumph as the world around them becomes increasingly specialized.
Mr. Epstein is a New York Times best-selling author and science writer focused on uncovering the keys to achieving high performance in any domain, and to debunk popular myths along the way. In his 2016 FAN talk, he discussed his New York Times best-seller, The Sports Gene, exploring the surprising science of extraordinary athletic performance.
Mr. Epstein will be interviewed by Joy Hurd, the Head of Lake Forest Country Day School in Lake Forest, IL. Mr. Hurd previously served as Director of the Upper School (grades 7-9) at the Buckley School, a K-9 school for boys in Manhattan. He has also taught at St. Peter's Prep (NJ), St. Bernard's School, and Riverdale Country School. He sits on the board of the Academy for Teachers, an organization dedicated to honoring and supporting teachers in and around New York City, and on the advisory board of the Paideia Institute for Humanistic Study, which promotes the study and appreciation of the classical humanities.
The October 21 webinar is sponsored by Family Action Network (FAN), in partnership with Evanston Township High School D202, Beacon Academy, Catherine Cook School, Chiaravalle Montessori School, Compass Health Center, Countryside Day School, Family Institute at Northwestern University, Family Service Center, Foundation 65, Lake Forest Country Day School, Loyola Academy, Mindful Psychology Associates PC, New Trier High School D203, North Shore Country Day School, Northwestern University School of Education and Social Policy, Pope John XXIII School, Regina Dominican College Preparatory High School, Roycemore School, Science and Arts Academy, Stevenson High School D125, The Alliance for Early Childhood, Wintrust Bank, and Woodlands Academy of the Sacred Heart.
The event will be recorded and available later on FAN's website and YouTube channel. A bonus after-hours event is also available to webinar attendees. For more information, visit www.familyactionnetwork.net.