Return to Headlines
Virtual FAN event with Regis & Kahran Bethencourt on November 30
November 19, 2020 2:00pm CT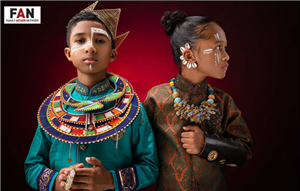 (image from www.familyactionnetwork.net)
"Glory: Magical Vision of Black Beauty," a conversation between Regis and Kahran Bethencourt and Natalie Moore, will be held on Monday, November 30, beginning at 7:00pm via Zoom. The event is free and open to the public, suitable for ages 12 and up. Registration is required.
With stunning images of natural hair and gorgeous, inventive visual storytelling, Glory: Magical Vision of Black Beauty, a photography book from Regis and Kahran Bethencourt, the dynamic husband-and-wife duo behind CreativeSoul Photography, puts Black beauty front and center with more than 100 breathtaking photographs and a collection of powerful essays about the children. At its heart, it is a recognition and celebration of the versatility and innate beauty of Black hair and Black beauty.
Glory brings to life past, present, and future visions of Black culture and showcases the power and beauty of recognizing and celebrating oneself — beauty as an expression of who you are is power. As bestselling New York Times author Michael Eric Dyson observes, "Seeing our beauty reflected in our children and having our children see their natural beauty be fully embraced is a gift to the race and a gift to the world. This transcendent work acknowledges the grace, and brilliance held in our Black bodies."
With more than ten years of working with hundreds of children, families and brands, the Bethencourts specialize in child and lifestyle photography while incorporating authentic visual storytelling. As artists, CreativeSoul Photography is committed to helping kids and brands create fascinating imagery by operating as a one-stop shop offering expert creative direction, vision, planning, strategy, and execution. They've worked with brands small and large around the globe such as Disney, Amazon, Just for Me, CurlyKids Haircare, CamilleRose Haircare and more. Their holistic approach to capturing one-of-a-kind moments has allowed their work to be featured in Teen Vogue, CNN, Glamour magazine, Vogue Italia, Black Enterprise, BET.com, on The Real daytime talk show, BBC News, the OWN network and more.
The Bethencourts will be in conversation with Natalie Moore, an award-winning journalist based in Chicago whose enterprise reporting tackles race, housing, economic development, food injustice, violence, segregation, and inequality. Her work has been broadcast on the BBC, Marketplace and NPR's Morning Edition, All Things Considered, and Weekend Edition. She is the author of The South Side: A Portrait of Chicago and American Segregation.
The November 30 webinar is sponsored by Family Action Network (FAN), in partnership with Evanston Township High School D202, Compass Health Center, Catherine Cook School, Kenilworth D38, Lake Forest Country Day School, North Shore Country Day School, Pope John XXIII School, Roycemore School, Stevenson High School D125, The Alliance for Early Childhood, Young, Black & Lit, and Youth & Opportunity United (Y.O.U.).
The event will be recorded and available later on FAN's website and YouTube channel. A bonus after-hours event is also available to webinar attendees. For more information, visit www.familyactionnetwork.net.