Return to Headlines
Virtual FAN Event with Christie Tate on January 14
January 6, 2021 1:00pm CT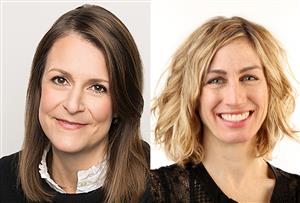 Christie Tate and Heidi Stevens (image from www.familyactionnetwork.net)
"Group: How One Therapist and a Circle of Strangers Saved My Life, " a conversation between Christie Tate and Heidi Stevens, will be held on Thursday, January 14, beginning at 7:00pm via Zoom. The event is free and open to the public, suitable for ages 12 and up. Registration is required.
In her New York Times bestselling memoir Group: How One Therapist and a Circle of Strangers Saved My Life, we learn about the wonderful, terrible day that Christie Tate learned that she was named the top student in her law school class. She also finally had her eating disorder under control. Why then was she driving through Chicago fantasizing about her own death? Enter Dr. Rosen, a therapist who calmly assures her that if she joins one of his psychotherapy groups, he can transform her life. All she has to do is show up and be honest. About everything—her eating habits, childhood, sexual history, etc. Ms. Tate is skeptical, insisting that that she is defective, beyond cure. But Dr. Rosen issues a nine-word prescription that will change everything: "You don't need a cure, you need a witness."
So begins her entry into the strange, terrifying, and ultimately life-changing world of group therapy. Ms. Tate is initially put off by Dr. Rosen's outlandish directives, but as her defenses break down and she comes to trust Dr. Rosen and to depend on the sessions and the prescribed nightly phone calls with various group members, she begins to understand what it means to connect.
Ms. Tate will be interviewed by Heidi Stevens, "Balancing Act" columnist for the Chicago Tribune.
The January 14 webinar is sponsored by Family Action Network (FAN), in partnership with Evanston Township High School D202, Compass Health Center, Family Institute at Northwestern University, Family Service Center, Family Service of Glencoe, Glencoe D35, Haven Youth and Family Services, Loyola Academy, Loyola University Chicago School of Law, Mindful Psychology Association PC, New Trier Parents' Association, North Shore Country Day School, Porter-Gaud Parent Association, Regina Dominican College Preparatory School, Roycemore School, Stevenson High School D125, and VillageMD.
The event will be recorded and available later on FAN's website and YouTube channel. A bonus after-hours event is also available to webinar attendees. For more information, visit www.familyactionnetwork.net.