Return to Headlines
ETHS Sponsoring Virtual FAN Events on January 19 and January 21
January 14, 2021 1:45pm CT
Evanston Township High School is sponsoring two virtual Family Action Network events next week. Both events are free and open to the public, suitable for ages 12 and up. Registration is required.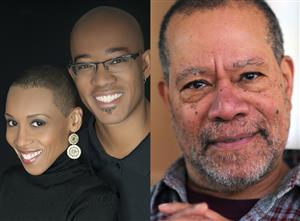 Andrea Davis Pinkney, Brian Pinkney, and Jerry Pinkney
(image from www.familyactionnetwork.net)
"The Marriage of Words and Pictures," a webinar featuring Andrea Davis Pinkney and Brian Pinkney will be on Tuesday, January 19, beginning at 7:00pm via Zoom. Registration is required.
Join the New York Times bestselling and award-winning husband and wife collaborators, as they ignite imagination by offering an exclusive behind-the-scenes look at how they've created over 70 books for children and young adults.
The Pinkneys will be interviewed by Jerry Pinkney, Brian's father, who has illustrated 100+ books over his renowned, award-winning career spanning six decades.
The event will be recorded and available later on FAN's website and YouTube channel. For more information, visit www.familyactionnetwork.net.


Angie Thomas, Dr. Marcus Campbell, and Dion Graham
(image from www.familyactionnetwork.net)
"Concrete Rose: A Conversation with Angie Thomas," a webinar featuring Angie Thomas will be on Thursday, January 21, beginning at 7:00pm via Zoom. Registration is required.
International phenomenon Angie Thomas revisits Garden Heights seventeen years before the events of The Hate U Give in Concrete Rose—a searing and poignant exploration of Black boyhood and manhood. The story begins in 1998, and features 17-year-old Maverick Carter (Starr's father) and his girlfriend Lisa as they navigate their relationships — with each other, family, and the King Lord gang. Mav learns that he is a father at the very start of the book, and the book unfolds the many pressures and choices he faces as a teen parent trying to face his life as a gang member with his responsibility as a father.
Ms. Thomas will be interviewed by Marcus Campbell, Ed.D., Assistant Superintendent/Principal at Evanston Township High School. Ms. Thomas and Dr. Campbell will be joined during the event by Dion Graham, actor and narrator of the Concrete Rose audiobook.
The event will be recorded and available later on FAN's website and YouTube channel. For more information, visit www.familyactionnetwork.net