Return to Headlines
Virtual FAN Event with Hanif Abdurraqib on April 6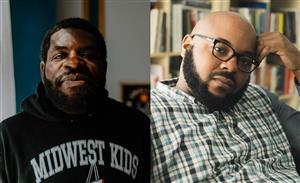 Hanif Abdurraqib and Nate Marshall
(image from www.familyactionnetwork.net)
"A Little Devil in America: Notes in Praise of Black Performance," a conversation between Hanif Abdurraqib and Nate Marshall, will be held on Tuesday, April 6, beginning at 7:00pm via Zoom. The event is free and open to the public, suitable for ages 12 and up. Registration is required.
At the March on Washington in 1963, Josephine Baker was fifty-seven years old, well beyond her most prolific days. But in her speech she was in a mood to consider her life, her legacy, and her departure from the country to which she was now triumphantly returning. "I was a devil in other countries, and I was a little devil in America, too," she told the crowd. Inspired by these few words, New York Times bestselling poet, essayist, and cultural critic Hanif Abdurraqib has written A Little Devil in America: Notes in Praise of Black Performance, a profound and lasting reflection on how Black performance is inextricably woven into the fabric of American culture. Each moment in every performance he examines—whether a schoolyard fistfight, a dance marathon, or the instant in a game of spades right after the cards are dealt—has layers of resonance in Black and white cultures, the politics of American empire, and Mr. Abdurraqib's own personal history of love, grief, and performance.
Mr. Abdurraqib writes prose brimming with jubilation and pain, infused with the lyricism and rhythm of the musicians he loves. With care and generosity, he explains the poignancy of performances big and small, each one feeling intensely familiar and vital, both timeless and desperately urgent. Filled with sharp insight, humor, and heart, A Little Devil in America exalts the Black performance that unfolds in specific moments in time and space—from mid century Paris to the moon, and back down again to a cramped living room in Columbus, Ohio.
Mr. Abdurraqib's poetry has been published in PEN American, Muzzle, Vinyl, and other journals. His essays and criticism have been published in The New Yorker, Pitchfork, The New York Times, and Fader. He is the author of the poetry collections The Crown Ain't Worth Much and A Fortune for Your Disaster, the essay collection They Can't Kill Us Until They Kill Us and Go Ahead in the Rain: Notes to a Tribe Called Quest. Mr. Abdurraqib was named guest curator at large at BAM (Brooklyn Academy of Music) beginning in January 2021 and is the host of the new SONOS podcast "Object of Sound."
Mr. Abdurraqib will be in conversation with award-winning poet Nate Marshall, whose most recent collection of poems is Finna, published in 2020.
The April 6 webinar is sponsored by Family Action Network (FAN), in partnership with Evanston Township High School D202, Baker Demonstration School, Compass Health Center, Evanston Scholars, Loyola Academy, New Trier High School D203, Regina Dominican College Preparatory High School, Rogers Park Montessori School, Roycemore School, Sacred Heart Schools, Stevenson High School D125, Wintrust Bank, and Youth & Opportunity United (Y.O.U.).
The event will be recorded and available later on FAN's website and YouTube channel. For more information, visit www.familyactionnetwork.net.